The Only Way To Reach the Statue of Liberty: The Ferry
How can you see the Statue of Liberty? It's one of the questions we get asked the most.
There are many different ways to see the statue. You can walk to Battery Park, ride the Staten Island Ferry or take a cruise around New York Harbor. Any one of these options will get you a good view.
But what if you want to actually visit the Statue of Liberty? There's a lot more to do than just taking pictures. Learn more about Lady Liberty in the new museum or climb to the top of the pedestal. However you choose to spend your time, Liberty Island is worth a visit and is, hands down, the best way to experience the Statue of Liberty. Luckily, getting there is really easy, as long as you know what to expect.
Here's all the information you need about the Statue of Liberty's official ferry.
Visiting the Statue of Liberty
The Statue Cruises ferry is the only way to get to the Statue of Liberty and Liberty Island. There are plenty of options that go near it, but to physically walk on Liberty Island you have to take the Statue Cruises ferry. They are the only company with permission to transport and dock on the islands.
It might seem backwards that only one company runs transportation to the city's most famous monument. This is actually for our benefit. Having just one eliminates any competition and keeps prices cheap and stable. 
The ferry makes two stops — Liberty Island & Ellis Island. It will then return back to its original point of departure, whether that be Battery Park in New York or Liberty State Park in New Jersey. You can choose to not exit at any of the stops, but, if you do, always be sure to get back on the right boat. The New York and New Jersey boats take different routes and don't stop at the others' departure point. So if you're coming from New York and hear a member of the crew shout "New Jersey" when you're getting back on the boat, best to turn around and get off. 
Scheduling is different depending on the season. Each day's schedule will be posted at the entrance of the ferry and at the end of both Liberty and Ellis Island docks. In the summer and other busy seasons, the ferries will leave every 20 minutes. Once winter hits and crowds decrease, the schedule changes to 30, and then eventually to 40 minutes, between each boat. Be sure to check the schedule online ahead of time so you know the exact schedule for the day.  
Guide tip: Once you know exactly what time the boats are scheduled to leave, try to be in line at Liberty and Ellis Island at least 10 minutes early. This will help to ensure you get on the next ferry and don't wind up cut off. The ferries do have limited capacity and nothing is worse than being so close and then having to wait another 20 or 30 minutes in the hot sun or extreme cold. 
Ferry Tickets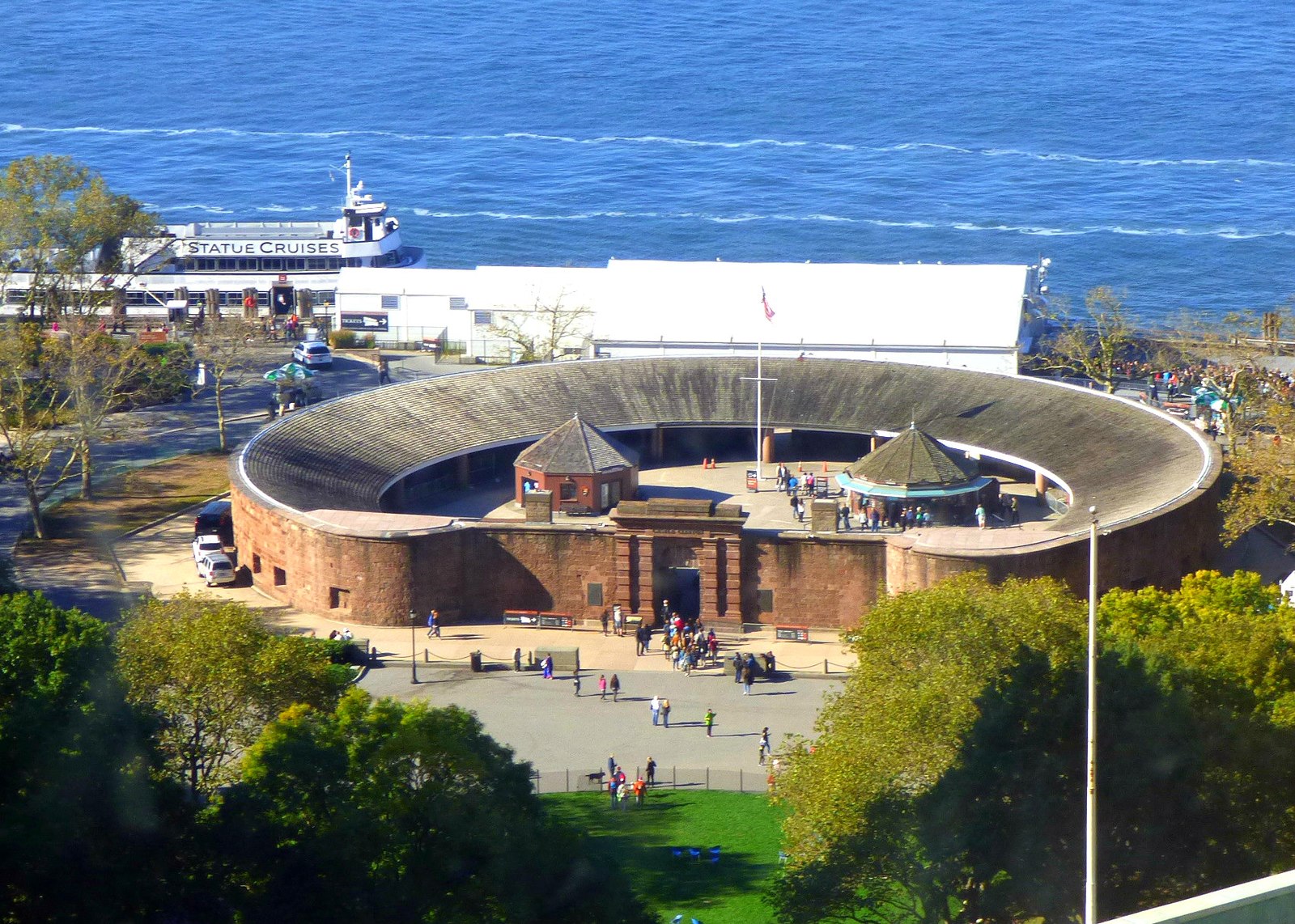 There are two types of ferry tickets you can purchase — flex and reserve. Both have their benefits, so the choice is up to you!
Flex Tickets
Flex tickets are purchased the day of and are good for one-time entry anytime within three days of purchase. Since there is no reserved time with these tickets, boarding the ferry is first-come-first-served for flex ticket holders. During peak season for the statue, the wait in this line can sometimes reach up to two hours by mid-day.
Keep in mind, Flex tickets do not grant you access to the pedestal or crown of the Statue of Liberty, so they rarely ever sell out. They cannot be purchased in advance so they're ideal for someone looking for more flexibility in their schedule. 
Reserve Tickets  
Reserve tickets must be bought ahead of time as they are marked with a specific entry time. This is the time that you will be permitted to enter the security line, not the ferry departure time. You will get priority entrance into the Screening Facility before you board. By booking this ticket in advance, you are saving yourself from losing valuable time waiting in a longer line.
The Reserve ticket is required if you wish to visit the Statue of Liberty pedestal or crown. It's also important to know that you don't have to enter the security line at the exact time on your ticket. You can enter anytime after the time has passed, just never before. 
Purchasing Tickets
It is recommended that you purchase your ferry tickets in advance. While you will have to select an entry time, this saves you from waiting in the extra line to purchase tickets in person at Castle Clinton. You can purchase advance tickets online or over the phone. From there you can choose to either print your ticket at home or pick it up at Will Call. 
No matter what you choose to do (buying online versus in person), you should try to be at Castle Clinton at least 30 minutes early to purchase or pick up. 
The ticket office at Castle Clinton opens 30 minutes before the first ferry departure and closes 30 minutes before the last. If you choose to purchase in person, you should aim to be there as early as possible. Waiting too long could mean that you miss out on something that you wanted to see. After 2:00 pm there is only enough time to see one of the islands. 
Prices for the standard flex or standard reserve ticket are the same:
$19.25 for adults
$14 for seniors
$9 for children 4-12
Free for children 3 or under
Upgrading to a Pedestal Ticket is free of charge, but must be done in advance. Crown upgrades are $3 more. Tickets are only good for the date, or range of dates, printed. Any reschedules or cancellations must be made at least 24 hours in advance.
Anyone under 18 must be accompanied by an adult 25 years or older. They will not be permitted to purchase a ticket on their own. 
Riding the Ferry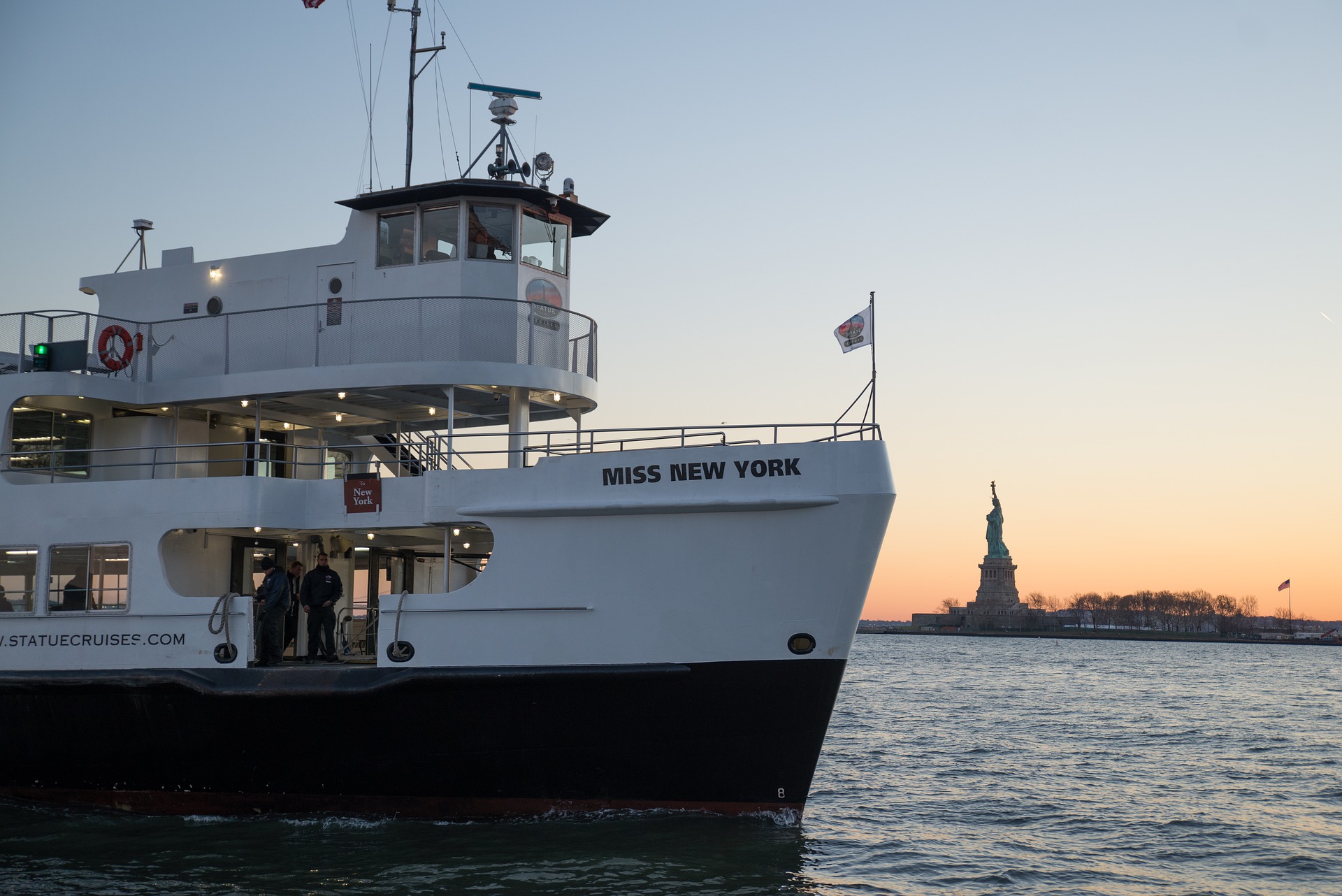 Each ferry ride takes about 10-15 minutes. But you might be waiting on the ferry longer if you happen to be one of the first in line. By the time the ferry has stopped at Liberty Island, Ellis Island and ends back at Battery Park, it will be about an hour round trip. Keep this in mind if you don't plan to leave the boat. There are bathrooms on board and a concessions stand with snacks and a small selection of souvenirs. Each ferry has seats both inside and outside, so there's no need to be nervous about riding during the cold. However, you will be waiting in an outdoor boarding line so make sure to dress appropriately. 
All of the ferries are wheelchair accessible and only authorized guide and service animals are permitted. There is no alcohol or smoking allowed on board. 
There will be a mandatory airport security screening before boarding the ferry for the first time. All jewelry, belts and watches will need to be removed, but shoes can remain on. 
Guide tip: The first time you get on the ferry, everyone will rush to the left side of the boat because that is the side facing the statue while the boat is docked. Use this time to find a good seat on the right side of the boat (the side facing Manhattan and Battery Park) because as soon as the boat pulls out, it will make a sharp turn and put you in prime viewing area for that first Statue of Liberty picture. 
Taking the Ferry During a Tour
When you purchase a ticket for our Statue of Liberty and Ellis Island tour, the cost of the ferry is included with your purchase. It takes a lot of the hassle out of buying because you have the option to purchase pedestal access up until the night before. This is especially convenient during peak seasons when the pedestal tickets online will sell out days ahead of time. 
The ferry ticket will be handed to you upon check in for your tour and must not be misplaced. Children under 4 do not need a physical ticket as they are free of charge. 
If you do not show up for the tour or decide to cancel or reschedule with less than 24 hours notice, we are at mercy of the Statue Cruises policy and cannot refund your ticket. You can choose to re-book and have the tour fee transferred, but you will have to re-pay for the ticket. 
How to Get There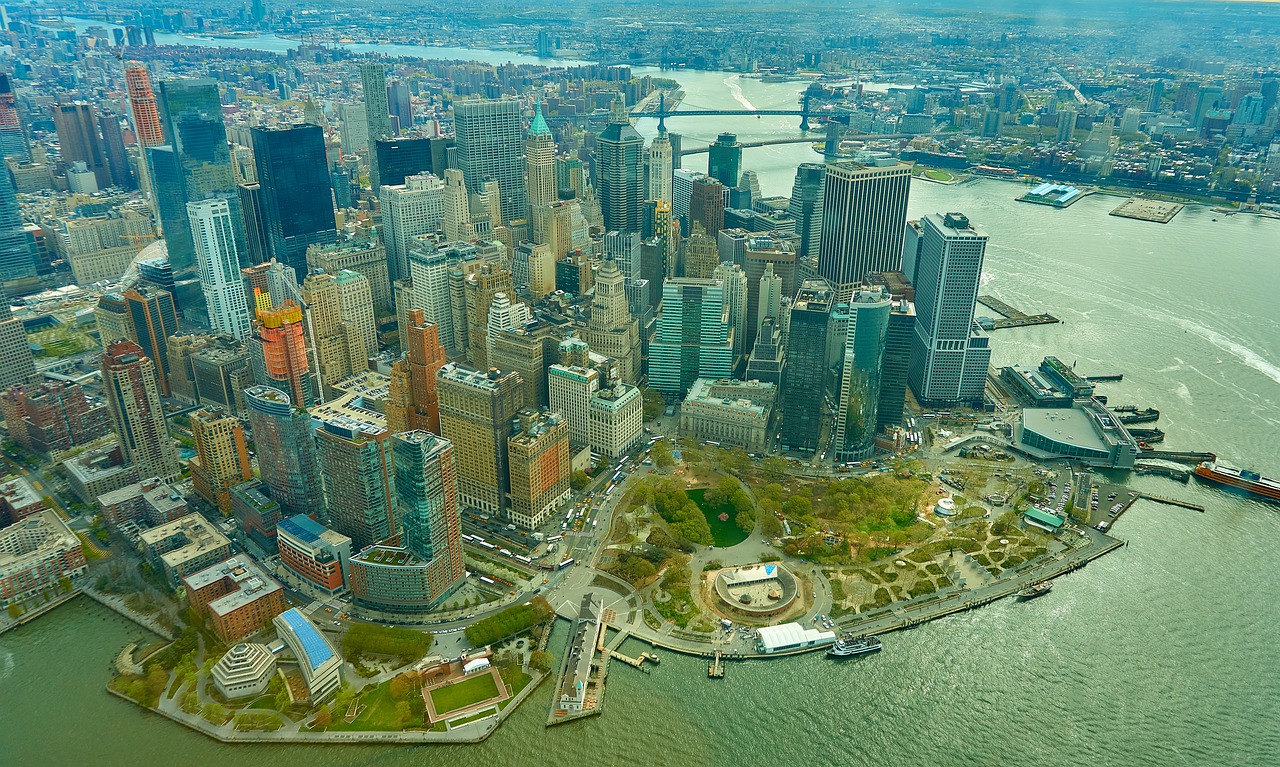 The New York ferries depart from behind Castle Clinton in Battery Park, which is accessible by foot, subway or car.
By Foot
Battery Park is at the southernmost point of Manhattan. The main entrance is at the very end of Broadway. You can easily walk to the park from some of Lower Manhattan's most popular destinations like the New York Stock Exchange, Federal Hall, and the 9/11 Memorial & Museum.
By Subway
The easiest and most direct route would be to take the 4 or 5 train to Bowling Green. You could also take the 1 train to South Ferry or the R or W train to Whitehall Street and walk through the park from the station to get to Castle Clinton. 
By Car
Parking is really limited in Lower Manhattan, so it's best to take public transportation, if possible. You could take a taxi if the subway is not an option for you. If you're coming in your own car, there are a number of private parking garages nearby, but this will most likely be expensive. 
Frequently Asked Ferry Questions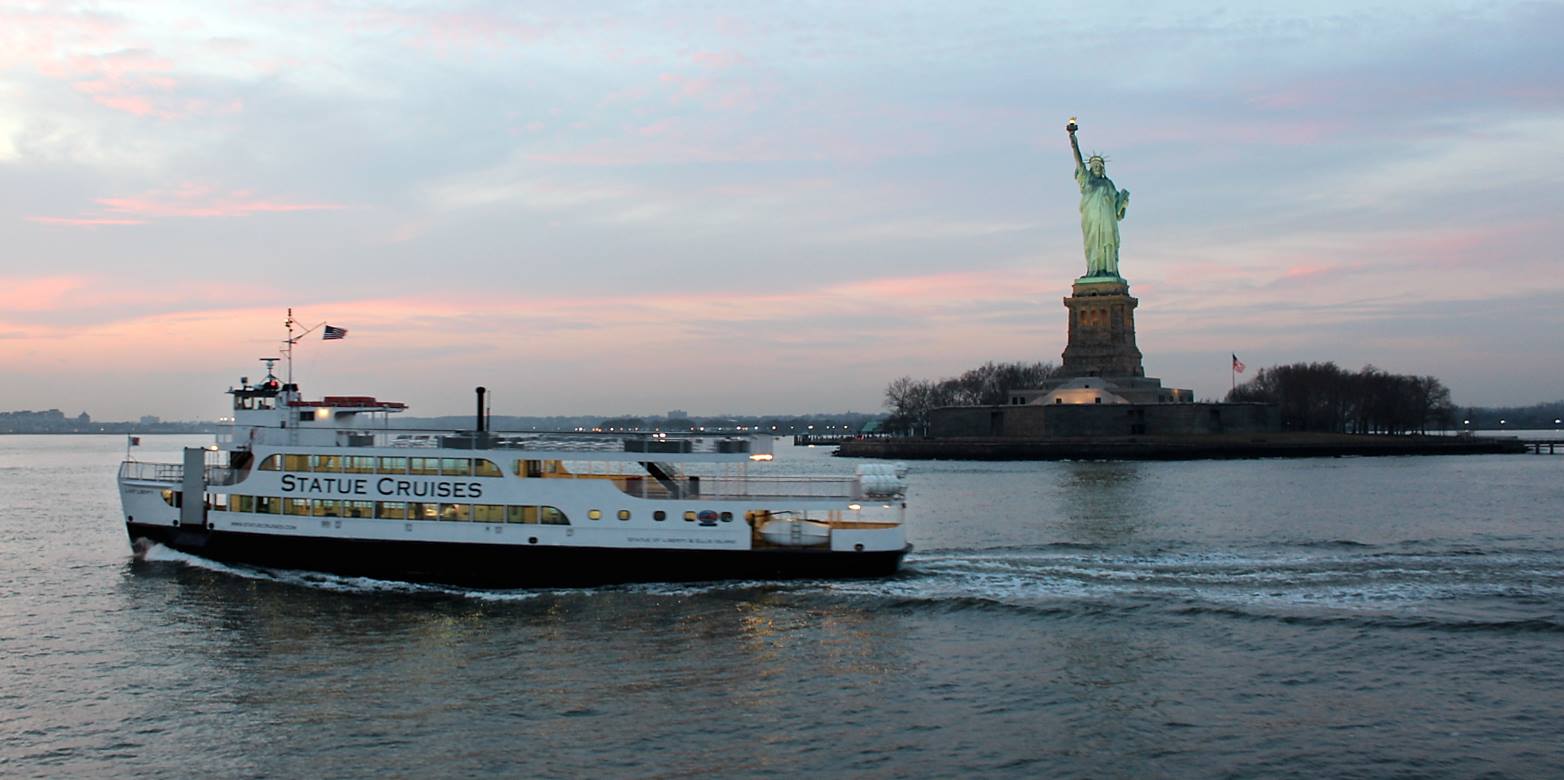 If I take the ferry from one side, do I have to return to that side?
You can certainly return to a different park from where you departed. But keep in mind, you must exit the boat when you return to either Battery Park or Liberty State Park and once you do, you cannot re-board to get back to the other side. 
How long does it take to board the ferry once I purchase or receive my ticket?
The wait for the security screening could be anywhere from five minutes to two hours. It really depends on the time of day you choose to visit. Earlier is always better so, if you want to avoid a longer line, show up as early as possible.  
Why does my flex ticket say 8 AM on it?
This is the default time printed on all flex tickets by the Statue Cruises ticketing system. It's not important. You can enter the security line at any time. The important information is the three-day window listed on your ticket. Once this time period has passed, your ticket is expired. 
Can I take a private ferry to the Statue of Liberty?
Definitely not. There are no ferry companies that book private trips to the Statue of Liberty and you are not allowed to dock your own boat at Liberty or Ellis Island. 
Congratulations! You are now a Statue Cruises master. As you can see, visiting the Statue of Liberty is actually pretty easy and straightforward. There's no debating back and forth about who has the best deal or better ratings.
Once you get those tickets, it's completely up to you what kind of experience you'd like to have. Statue Cruises has been serving the Statue of Liberty and Ellis Island for over 10 years and it's impossible to imagine New York without them.
Guided Tour
Statue of Liberty and Ellis Island Tour plus Reserve Line Access
Book Now