How to Add Ellis Island on to Your Statue of Liberty Trip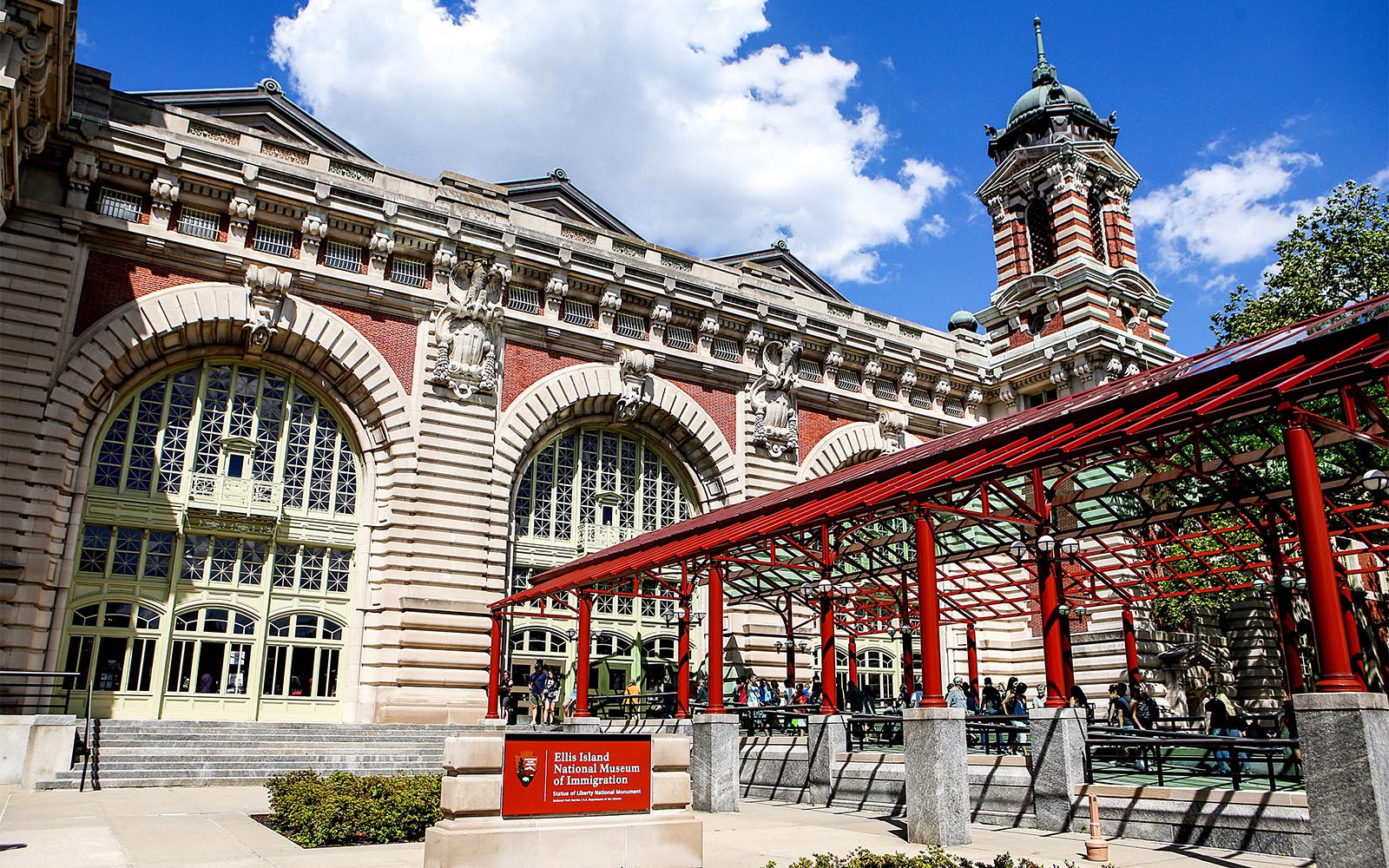 Visiting Ellis Island is the perfect compliment to seeing the Statue of Liberty. While the two islands may have very different histories, they're both important symbols of America and its immigrant history and future.
However, Ellis Island isn't quite as popular as the Statue of Liberty, and sometimes it's overlooked. Many visitors don't realize how easy it is to see both islands and wind up missing Ellis altogether. But as anNYC local and a longtime tour guide, I'm here to tell you that visiting Ellis Island is not only super simple but also definitely worth the extra time.
Here's everything you need to know about adding on Ellis Island to your Statue of Liberty trip.
Where is Ellis Island?
Ellis Island sits in New York Harbor, north of Liberty Island and right next to Liberty State Park in New Jersey. Most of the island is considered a part of New Jersey, except for a small patch on the north side that is New York territory.
How to get to Ellis Island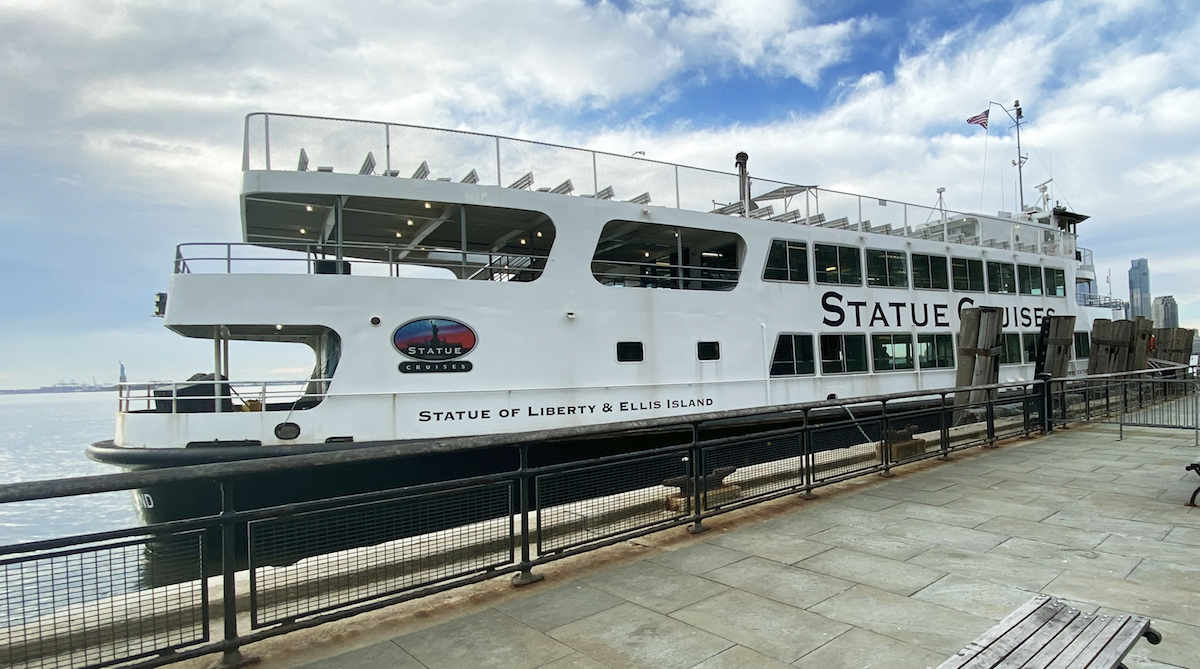 The only way to reach Ellis Island is by a Statue Cruises ferry. This is the same ferry that takes you to Liberty Island. If you're visiting from New York, the ferry will stop first at Liberty Island, and then at Ellis Island before making its way to Battery Park. There is no separate or specific ferry for Ellis Island, they all make both stops.
Is the Statue of Liberty on Ellis Island?
No, the Statue of Liberty is on Liberty Island. People ask this question a lot, not realizing that the two islands are separate. It's a common misconception because some people don't know about Ellis Island while others don't realize that the statue has its own island.
A brief history of Ellis Island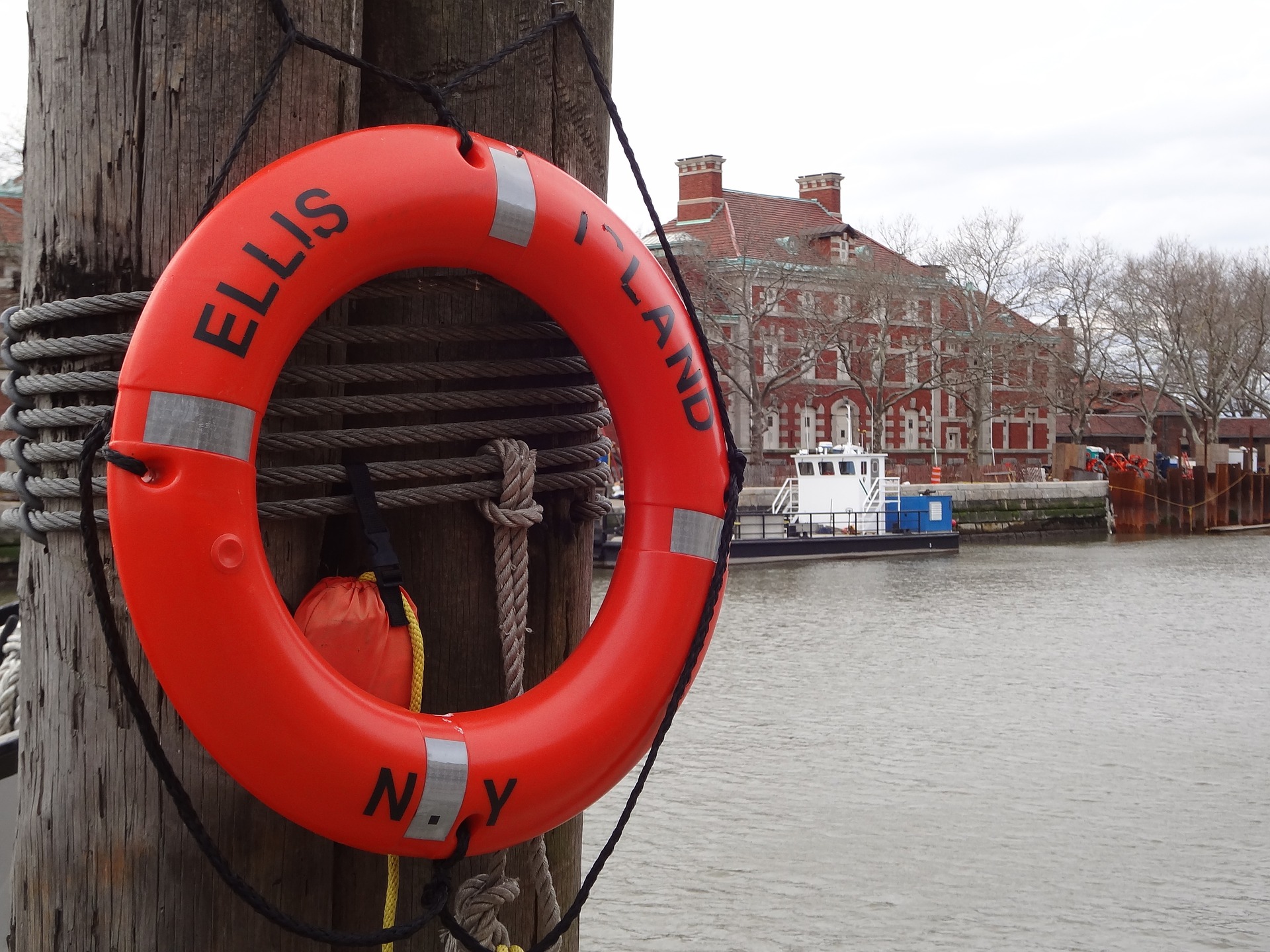 1890-1891: The Federal Government takes control of immigration from the states and chooses Ellis Island as an official immigration station. Before construction on the depot began, the island was doubled in size with landfill.
1892: Ellis Island officially opens for immigration into the United States.
1902-1909: The main hospital building and other medical complexes were built on the south side of the island.
1954: Ellis Island Immigration Station is closed permanently and the island is abandoned.
1965: Ellis Island becomes part of the Statue of Liberty National Monument.
1986: Work begins to repair and refurbish the main immigration building.
1990: The restored main building reopens as the National Museum of Immigration.
Adding Ellis Island on to a Statue of Liberty visit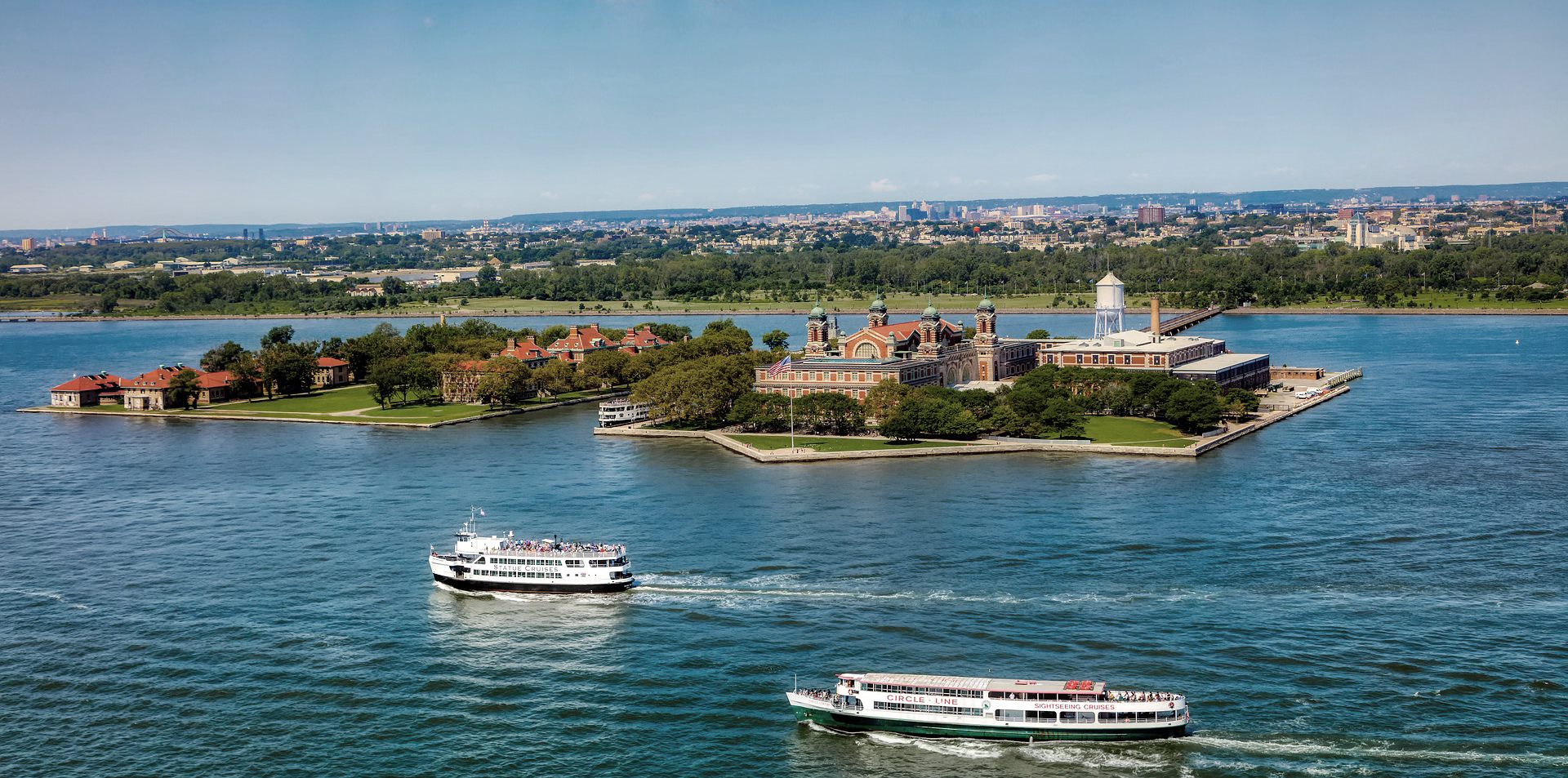 Adding Ellis Island to your Statue of Liberty visit couldn't be any easier. There's no extra ticket involved. All you have to do is make sure you leave yourself enough time and get off the ferry when it stops at Ellis.
No need to worry about another security check or baggage restrictions. Just be sure to double check the ferry schedule when you arrive so you know what time you should be back in line.
There's also plenty of reasons why it's worth it to make the extra time to visit Ellis Island, even if you don't have personal family history with the island.
My favorite reasons to visit Ellis Island:
The architecture is beautiful.
Ellis Island has had an enormous impact on American History.
You'll learn about various other periods of immigration.
See a unique view of the Statue of Liberty.
How far is Ellis Island from Liberty Island?
As the crow flies, the two islands are less than a half-mile apart. But since you'll be taking the ferry, your route including walking is about a mile. The ferry from Liberty Island to Ellis Island takes 15 minutes.
Short answer: Really close. Once you're on Liberty Island, it's pretty convenient to add on a visit to Ellis Island.
How long to spend at Ellis Island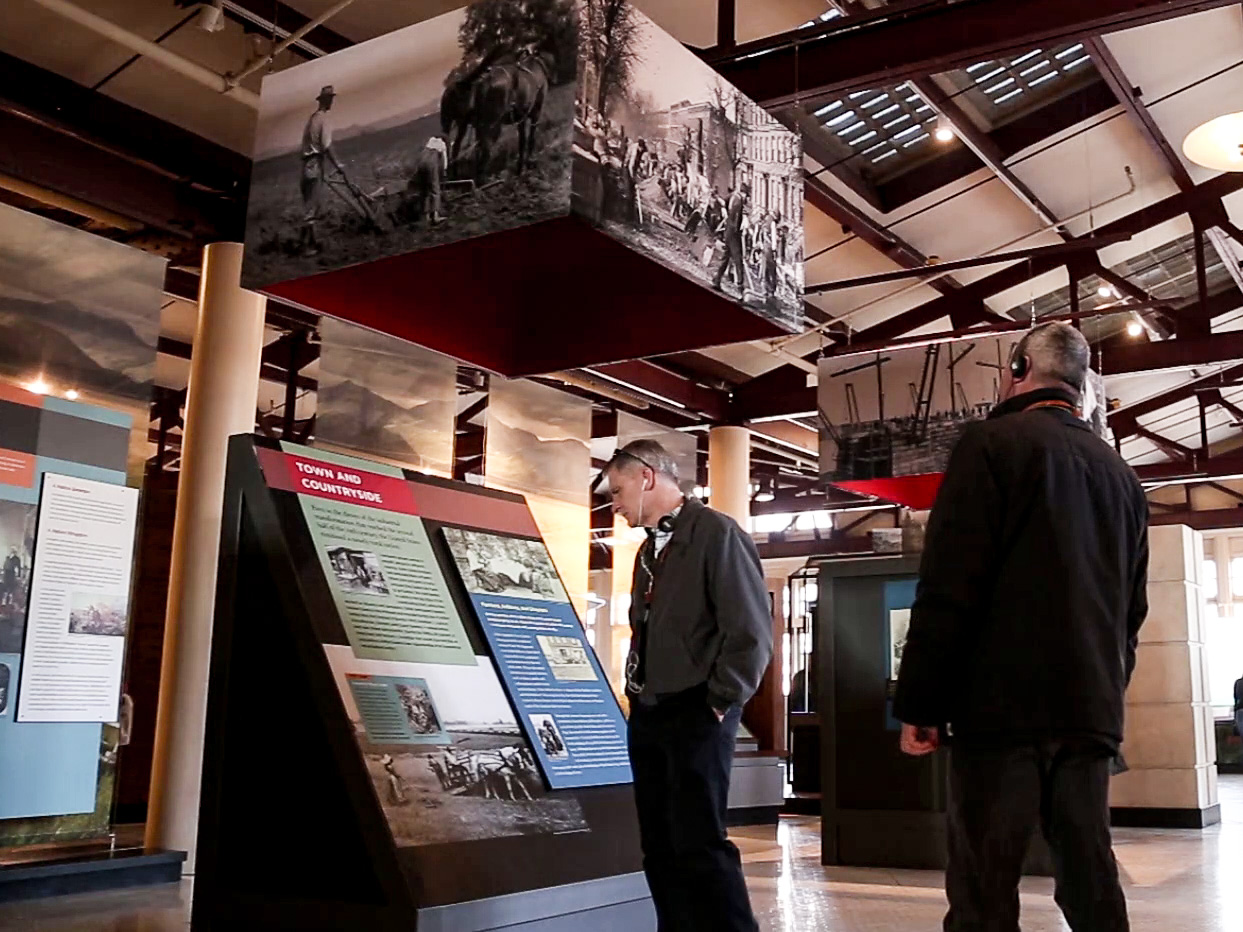 I typically recommend to my tour guests that they leave about an hour for Ellis Island. That's usually enough time to skim the museum, walk through the Registry Room, see the Wall of Honor and maybe relax a bit/grab a souvenir before heading back to Manhattan.
However, you could spend up to 3-4 hours there if you are really invested and want to explore more. There's plenty of exhibits to see and the information is very detailed. Or you could take the Hard Hat Tour and visit the history center. The exact amount of time is really up to you.
Everything there is to do at the Ellis Island Museum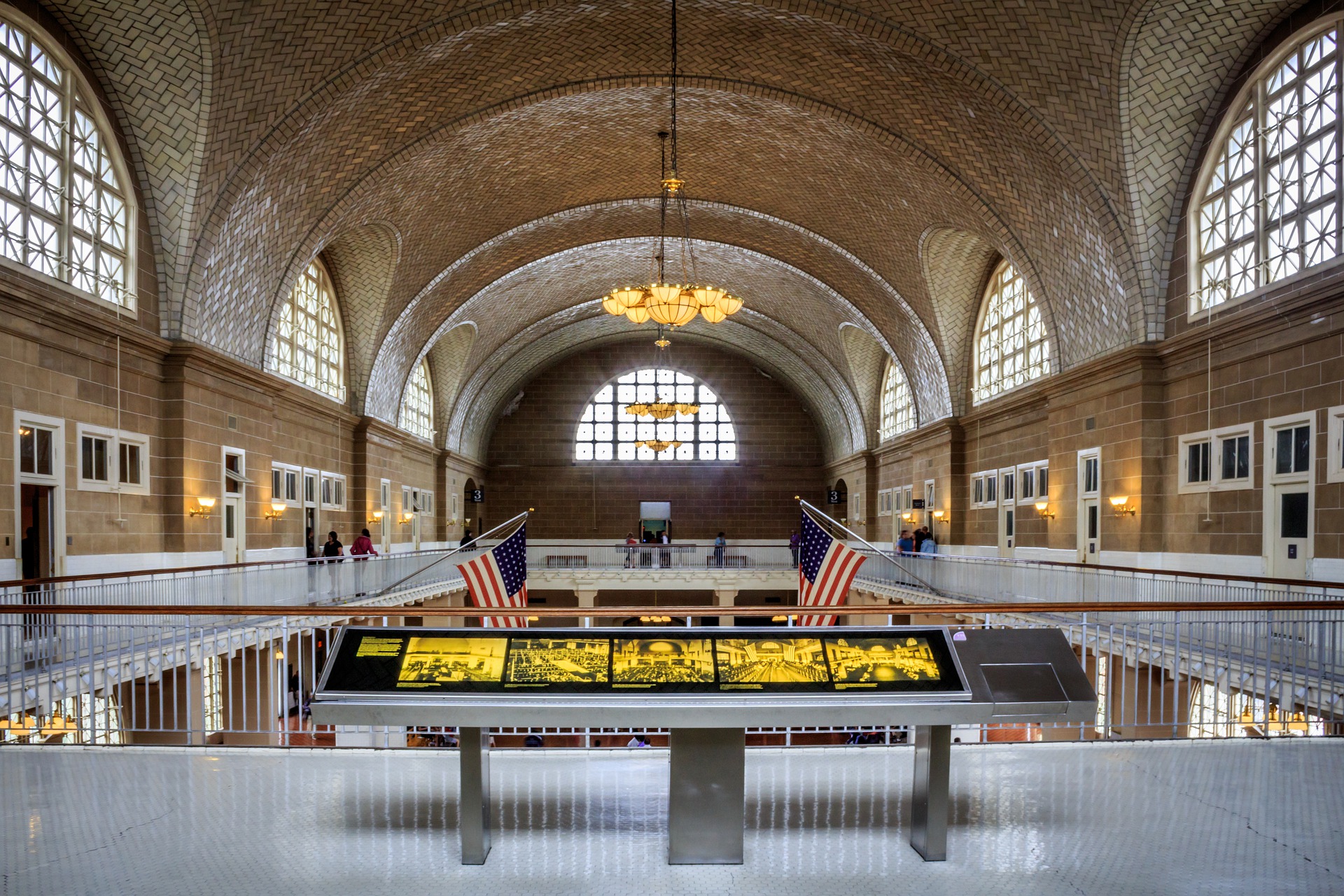 The National Museum of Immigration at Ellis Island is full of various different exhibits, all dedicated to the immigrant experience. But the overall building immerses you in the journey of being an immigrant and coming through, from unloading at the ferry dock to climbing up the stairs to the Registry Room.
Ground Floor
Baggage Room: When you walk up the ramp and enter the doors of the museum, the first exhibit you'll see is a pile of bags and trunks. This large room was used as a baggage check for thousands of immigrants every single day. The examples you see are actual pieces of luggage from the Ellis Island era, over a century old.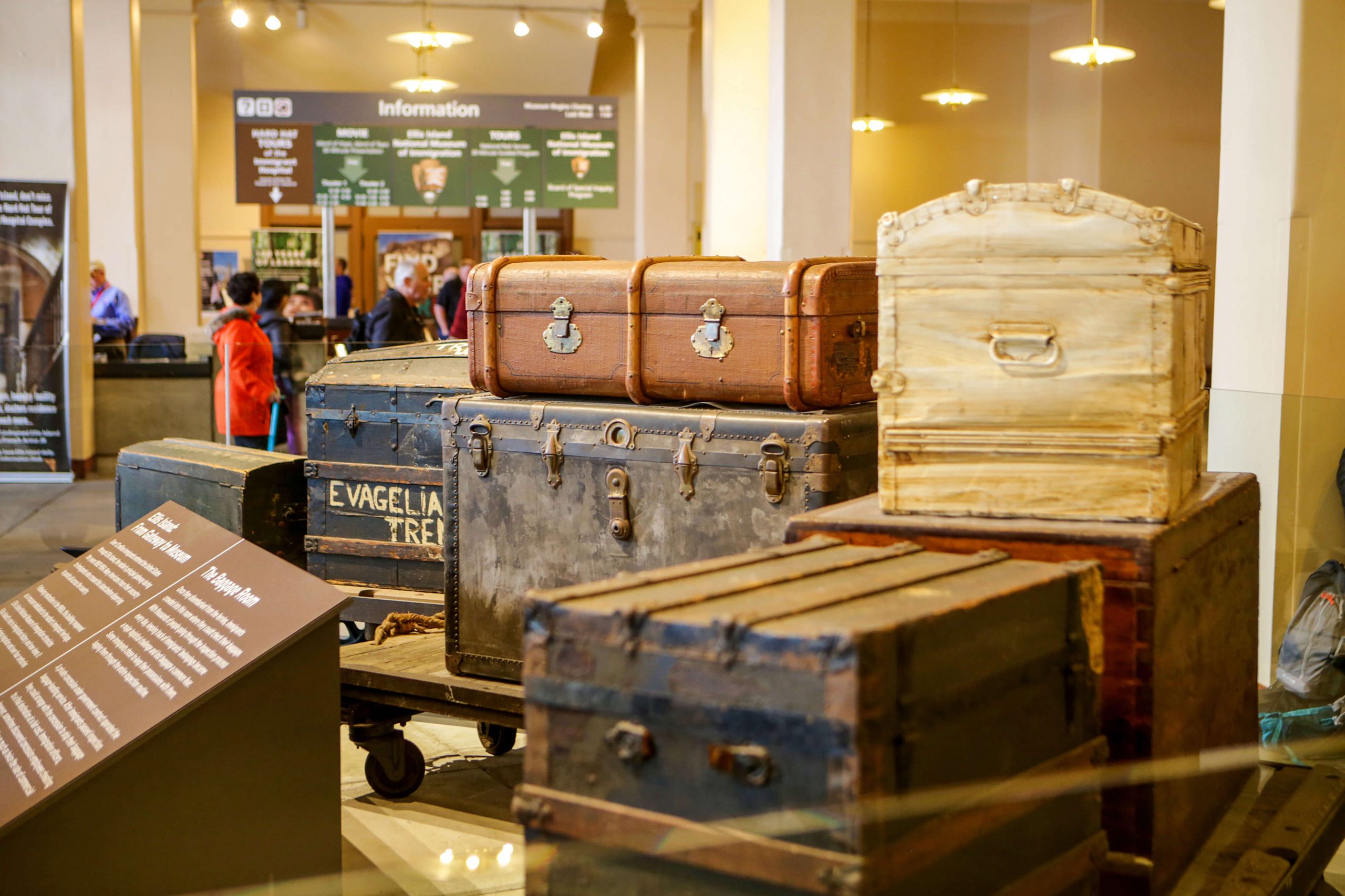 American Family Immigration History Center: As you will learn down below, the history center is a research hub where you can search through hundreds of ship manifests and documents to find your ancestors.
The Kissing Post: This small room is so named because this is where families and friends would reunite for the first time after completing the immigration process. People would wait here for hours and hours in suspense until the emotional moment when their loved ones walked through the registry room doors, passing the immigration inspection.
Journeys: New Eras of Immigration and The Peopling of America: These two exhibits cover the time periods of 1550-1890 and 1945-Present. You will read about the early history of immigration, before Ellis Island existed, and how it all changed after Ellis Island closed. You can even quiz yourself in the "Citizenship Gallery" with some of the questions that are asked in the nationalization test to become an American citizen.
"Island of Hope, Island of Tears:" The short film shown in Theater 1 is a perfect introduction to the museum. You'll see footage of actual immigrants coming through the very same building and hear first hand accounts of what it was like to be an immigrant at Ellis Island.
The ground floor also has several services for guests:
Audio tour pick-up and drop-off
Bookstore
Gift shop
Ellis Island Cafe
The information desk
Second Floor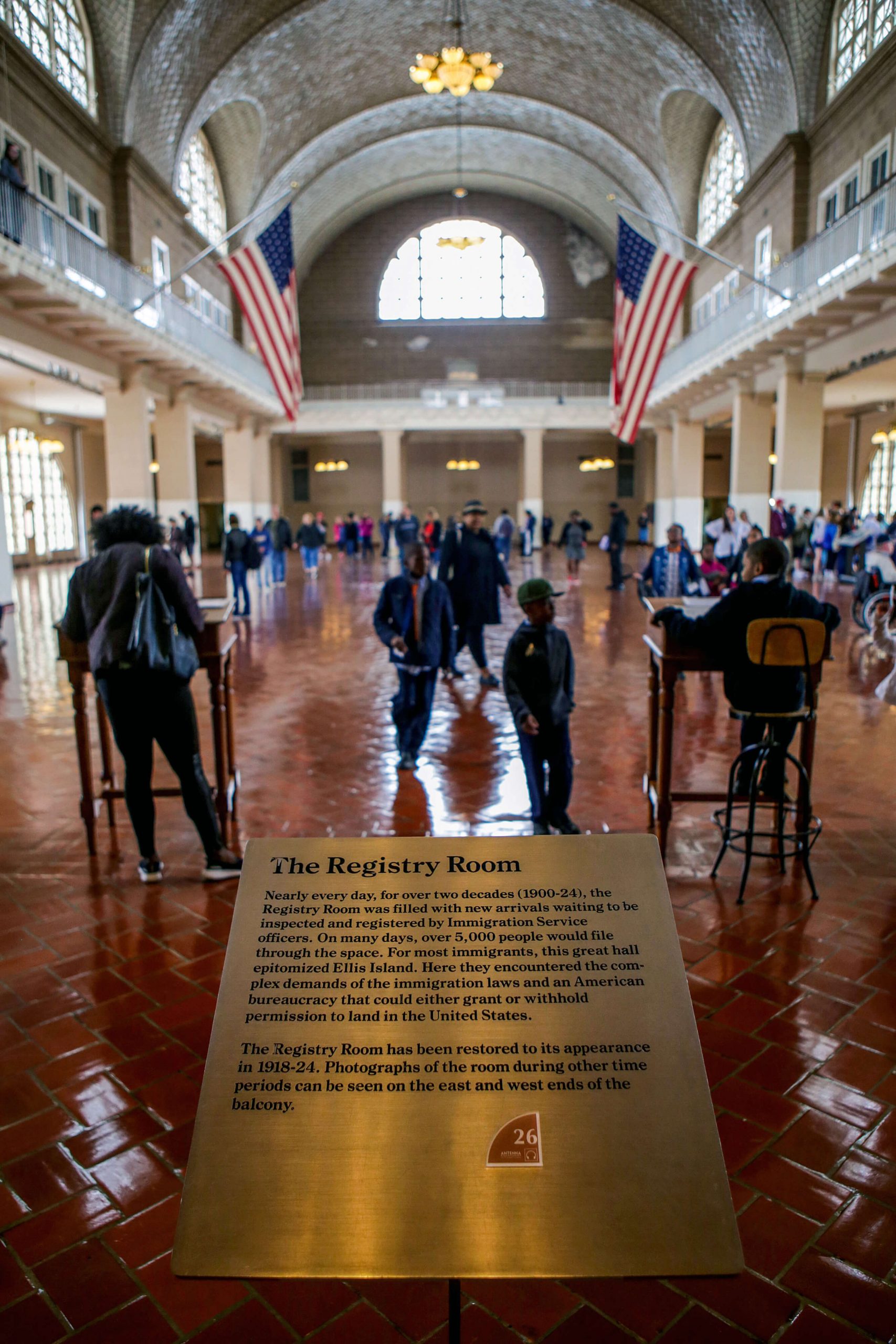 The Registry Room: The main hall of the museum was once full of thousands of confused and frightened immigrants. This was where medical inspections and legal examinations took place. Where immigrants were either granted permission to enter the United States or denied entry and sent back home. Today it has been restored to its original appearance, with original wooden benches and photographs of the room during various time periods.
The Hearing Room: This small room was home to the Board of Special Inquiry, where about 10% of the people at Ellis Island were held for a legal hearing. Immigrants who were thought of as possibly unfit for entry or liable to become public charges would receive a yellow card and sent to one of 3-4 boards that were in session each day.
Through America's Gate: These exhibits describe step-by-step what most immigrants experienced on Ellis Island — the hours of waiting, the medical examination, the legal inspection. The space was once full of legal hearing rooms, waiting rooms for witnesses, detention quarters and offices of the staff.
Peak Immigration Years: In a continuation of the exhibits from the ground floor, this exhibit focuses on immigration in America from 1880 to 1924, the largest migration period of people in history.
Third Floor
Dormitory Room: Located along the balconies of the Registry Room, the dormitories were once full of immigrants who had been temporarily detained. It's been restored to its 1908 appearance, with replicas of the original triple-tiered bunk beds and wire-mesh mattresses.
Ellis Island Chronicles: Here you will learn about the history of the physical island, with small scale replicas showing its expansion and building.
Treasures From Home: Donations by various American immigrants and their children created this unique exhibit. These artifacts, considered very cherished belongings, were carried with immigrants during their emotional journey, and eventually displayed here, representing many different cultures and traditions.
Silent Voices: Depicting the period after Ellis Island was abandoned, this series of photographs documents the island in its dilapidated state and showcases original furnishings, displayed in the condition they were found before the 1980s restoration.
Restoring a Landmark: Here you will learn about the long and difficult process of restoring Ellis Island. Years of research and planning led to one of the most impressive restorations projects in the country's history.
Other things to do at Ellis Island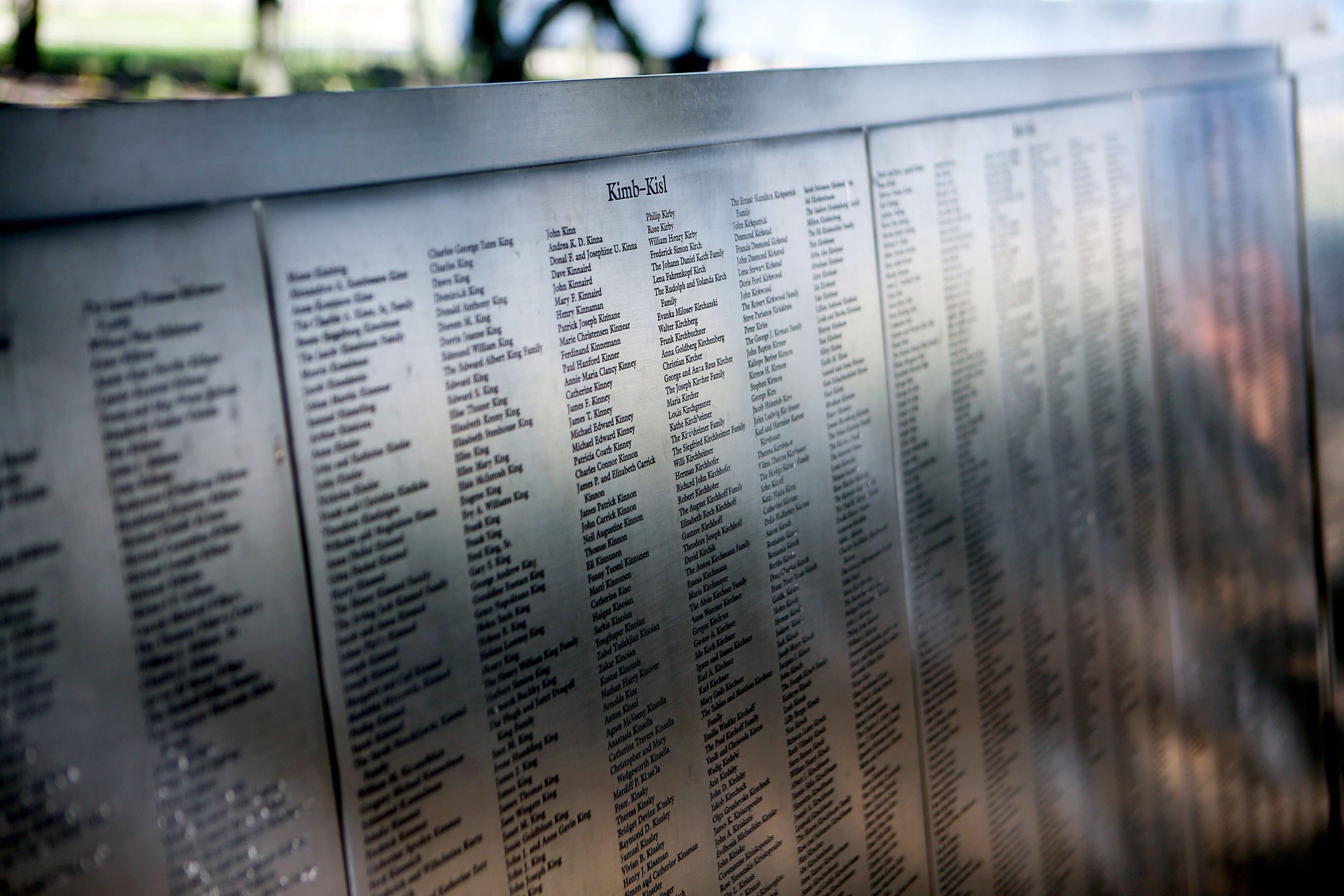 The Wall of Honor
The American Immigrant Wall of Honor is a series of stainless steel panels dedicated to the millions of immigrants who came through Ellis Island, as well as immigrants from other time periods, slaves and the country's Native American population. It's located on the eastern edge of the island, right next to a beautiful view of the Manhattan skyline.
Hard Hat Tour
Across the island from the museum is a massive collection of 30 different buildings, once used as a hospital complex for sick or injured immigrants. These buildings have not been restored, and have thus been abandoned since the 1950s. In fact, the entire south side of the island is completely restricted to public access.
The only way to see these buildings up close is through a Hard Hat Tour. This 90-minute experience walks you through many of these abandoned buildings and gives you the chance to tour through a collection of untouched history. If you're interested, more information and tickets can be found at the information desk on the ground floor.
How to find your ancestors at Ellis Island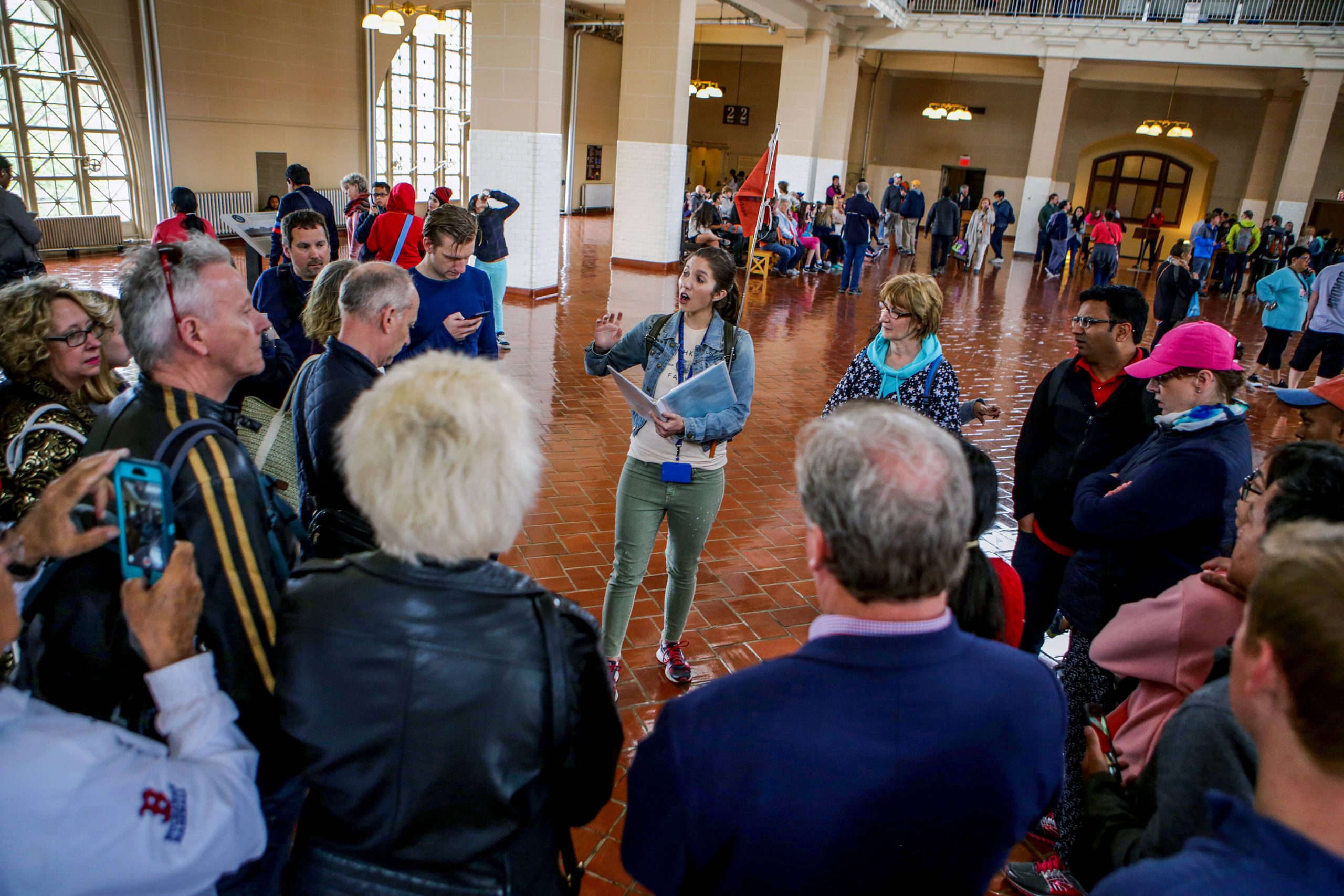 There's an entire database at Ellis Island, accessible through the American Family Immigration History center. Over 65 million records and immigration documents are searchable with the help of research assistants who will answer questions and help you in your search. There is a small fee, which also includes a hard copy of whatever paperwork you might find and a personalized certificate.
Guide tip: You can also do the same research online for no charge. But the website doesn't offer any assistance and any documents would have to be printed on your own.
Ellis Island with kids
While the island might seem boring to kids, I find that the museum is actually a lot more interactive than most. Most of the exhibits are very visual.
On my tours, I find it helpful to encourage kids to pretend that they're the immigrants coming through, imagine what it must be like for them to be in a brand new place. You can walk them through the immigration process as if they were actually doing it.
Lots of kids are surprised to learn that many Ellis Island immigrants were children. And many of them were completely on their own.
Surprising fact: Here's one you might not know. Ellis Island's very first immigrant was only 17 years old! Annie Moore made the terrifying journey as only a teenager, while also looking after her two younger brothers. Thinking about that makes math class sound a little bit less intimidating.
Sharing this information with them might make the experience seem more personal and more engaging.
Which is better to visit: Liberty Island or Ellis Island?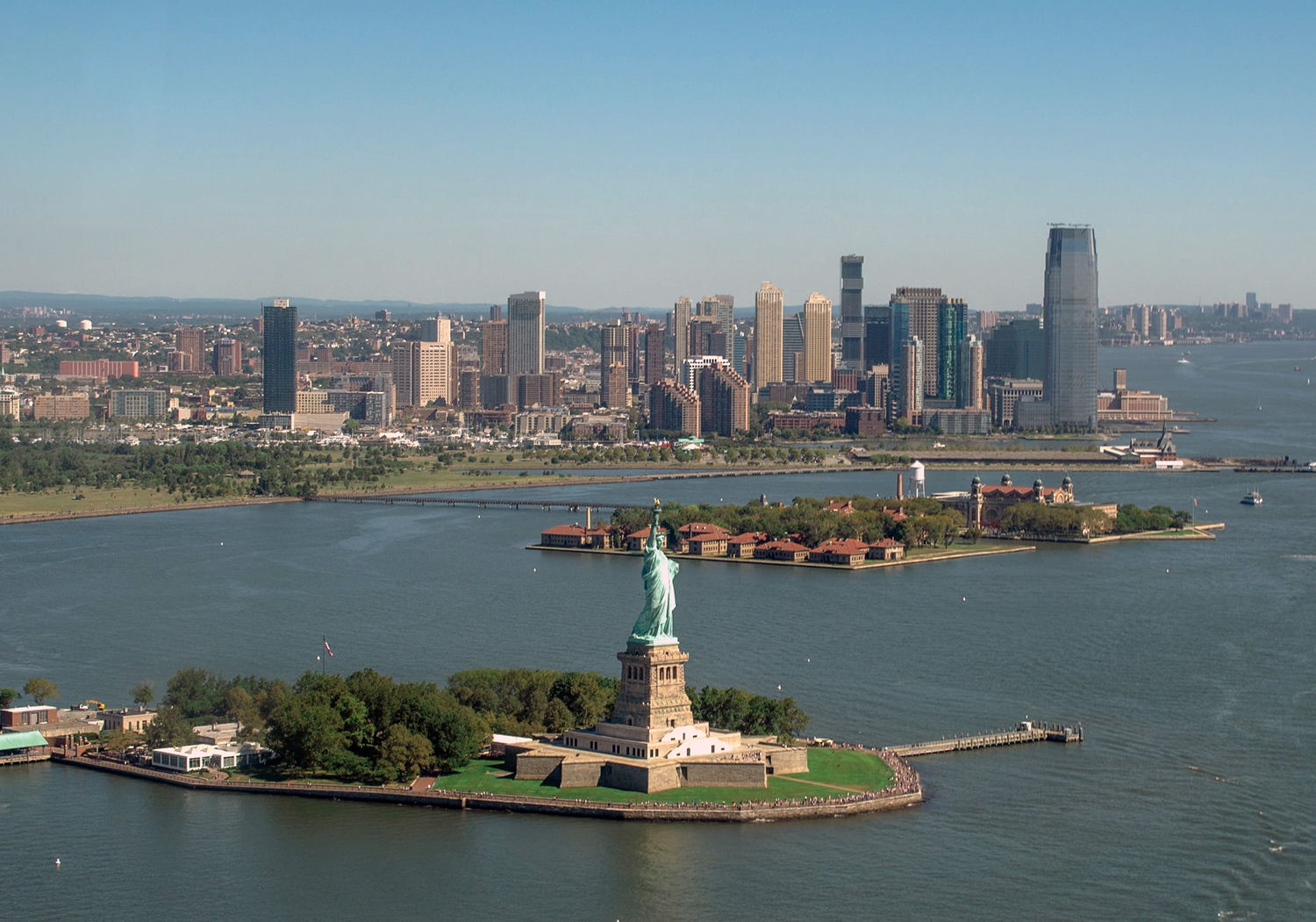 It depends. Ellis Island played a more significant role in American history. Its existence as the gateway for so many early immigrants has had a huge impact on the U.S., more than most people realize. Also, Ellis Island is generally less crowded and overwhelming than Liberty Island, with a lot more space.
That being said, it might not be as interesting to you. Maybe you have a lunch reservation you need to get to and don't have time. The Statue of Liberty is undeniably more famous. The Statue of Liberty Museum at Liberty Island pretty exciting as well. And how you can visit NYC and not see the statue?
Ultimately, it depends on your preference, but you might be able to guess what I recommend. See both! Whether you opt for a half-day tour or visit on your own, Ellis Island is an easy add-on to to your trip to the Statue of Liberty. Together, they make one incredible New York experience.