Top 6 Ways to See the Statue of Liberty: Land, Sea, and Air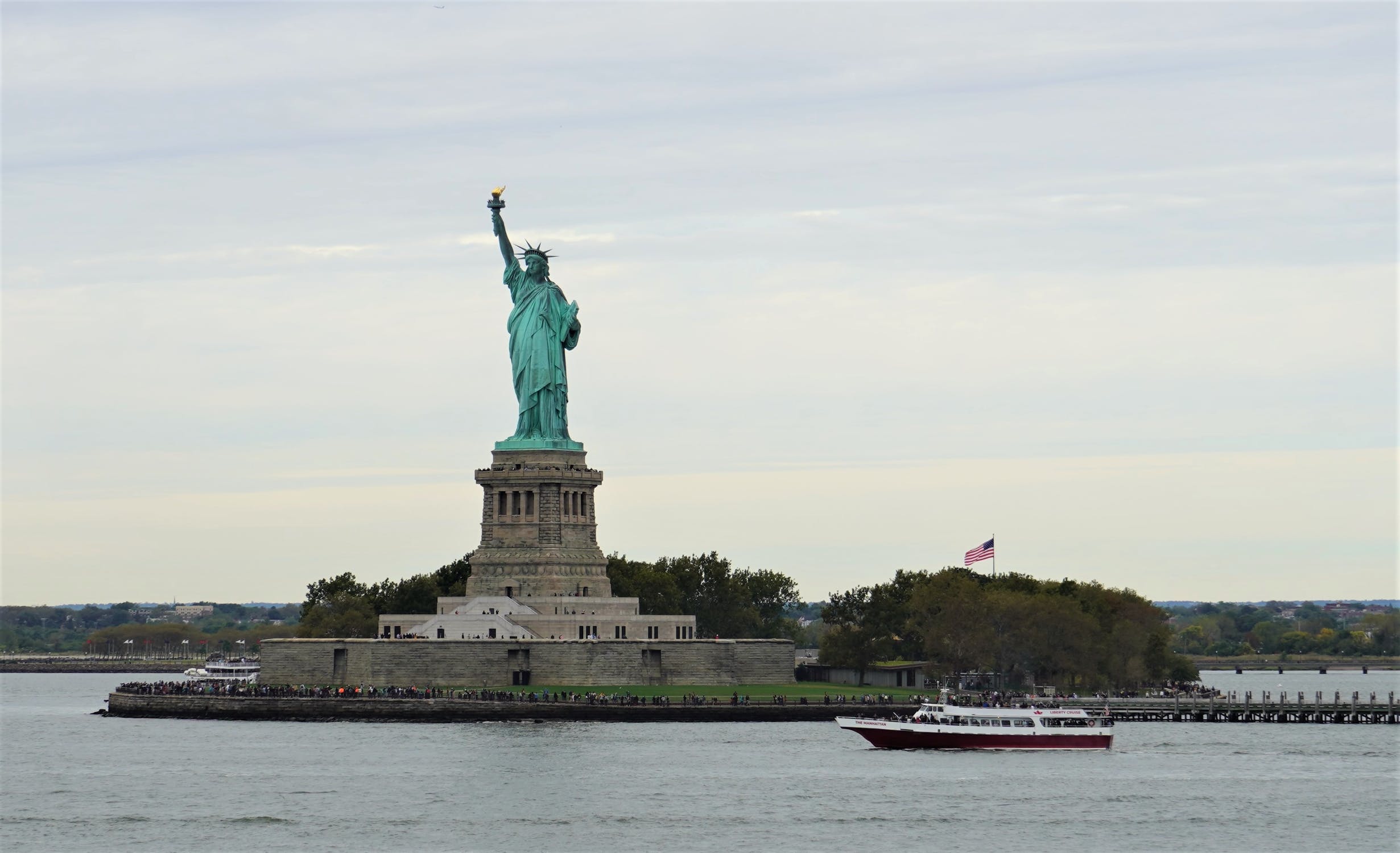 One of the number one questions I get as a tour guide is: "What do you think is the best way to see the Statue of Liberty?" Truth be told, there's many options and it all depends on your preference. But that answer doesn't really help much.
To help you answer this question on your own, this post lists the top six options for seeing the Statue of Liberty. In no particular order and with pros and cons for each, you'll be able to compare all of your choices and determine which seems the best fit — land, sea or air.
1. Staten Island Ferry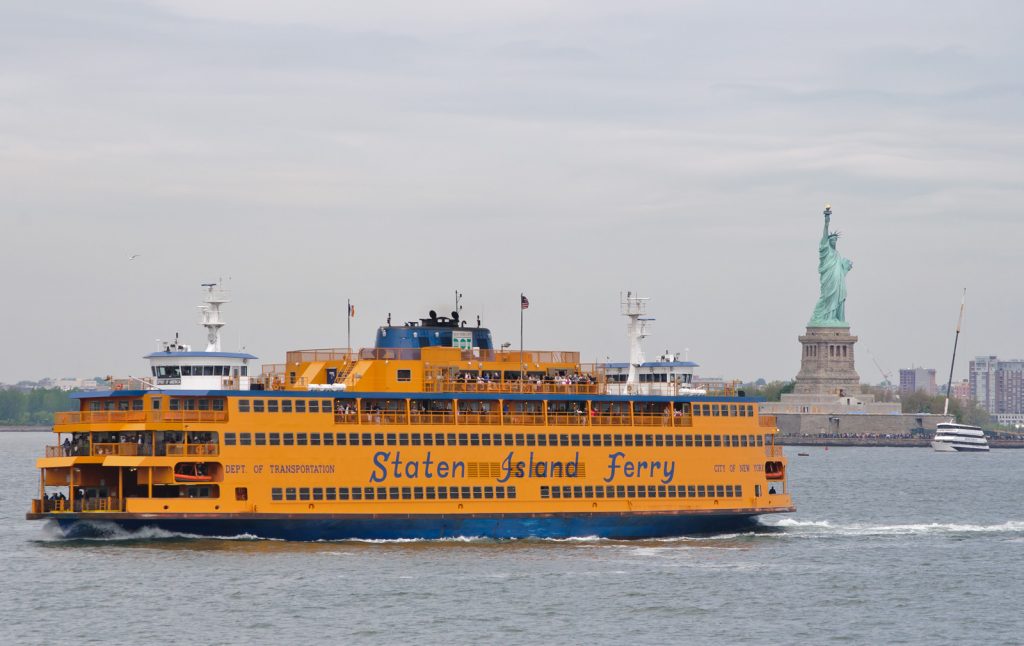 The Staten Island Ferry is a free transportation service provided between Manhattan and Staten Island. Each boat is quite large, carrying over 4,000 people. But the route across New York harbor takes you directly in front of the statue.
Pros:
This view is completely free.
The boat brings you pretty close to the statue.
Cons:
The ride from Manhattan to Staten Island is almost 25 minutes. When all is said and done, you'll be spending about an hour back and forth for only a 5-minute view of the statue.
There isn't a whole lot to do in Staten Island so, once you arrive, many people just rush to re-board the next ferry back to Manhattan. But there is a chance you could get cut off and wind up waiting an additional 30 minutes for the next ferry. This could mean even more valuable time eaten up.
While the view is nice, it's not the closest you can get. This still doesn't give you the option of visiting Liberty Island or going inside the statue.
If you plan to catch the ferry, make sure to check the ferry schedule online beforehand. It typically operates 24 hours a day, leaving every 15, 30 or 60 minutes. The boarding terminal in Manhattan is called Whitehall Terminal — located in Battery Park on the eastern corner.
2. Helicopter Tour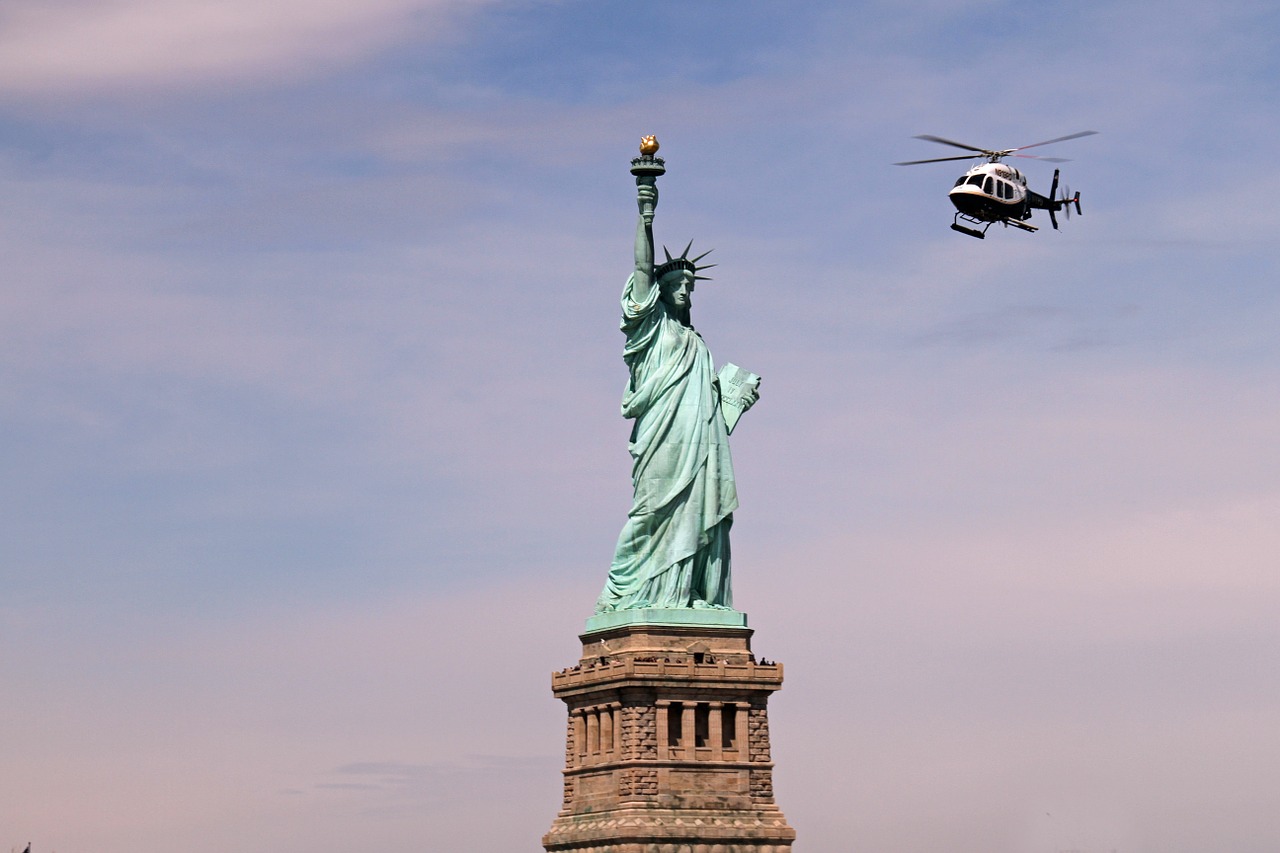 The city offers various options for helicopter tours of New York harbor, which features a rare bird's eye view of the statue. You can see details that very few get to see up close.
Pros:
Most helicopter tours only last about 15-20 minutes. In that short period of time, you can see views of the Statue of Liberty, the Empire State Building, the Brooklyn Bridge and many other landmarks that could take you hours to see by foot.
This is by far the most unique way to see the statue. None of the other options offer you views from above.
Cons:
Helicopter Tours can get fairly pricey. Depending on which company you choose to book with, you're looking at about $100-$200 per person.
Planning ahead is important. You are required to book a ticket and spots can fill up quickly. This isn't something you could necessarily do last minute.
Most helicopters leave from Lower Manhattan, in or near the Financial District. While booking a ticket might be simple, keep in mind that, upon arrival, you'll probably be given some safety instructions. You may also need to provide additional information, including your weight.
3. Statue Cruises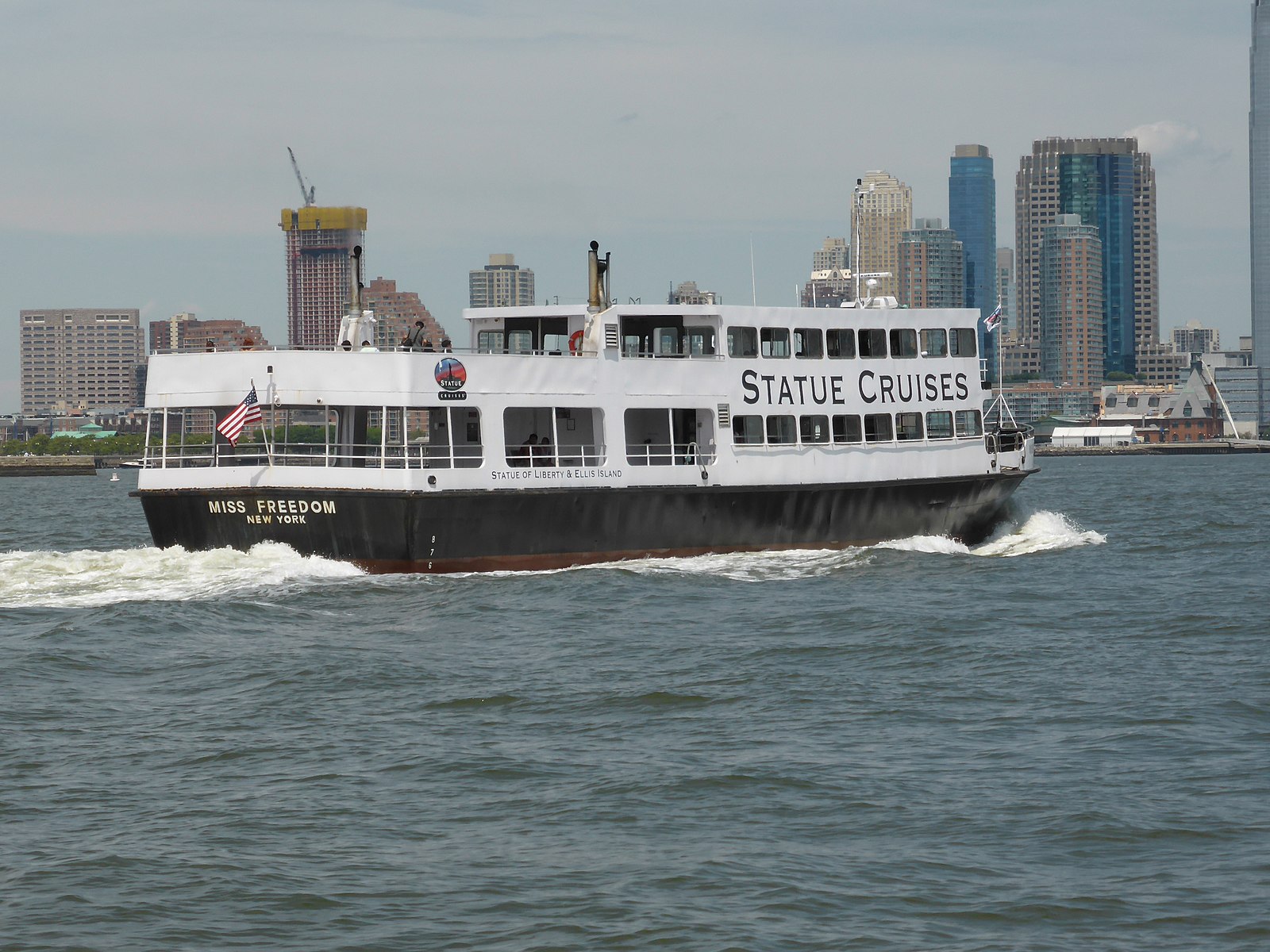 Statue Cruises is the ferry service that offers direct transportation to Liberty Island and the Statue of Liberty. They are the only company with permission to dock on the island, so you must take their ferry if you want to go inside the statue or visit the museum.
Pros:
While the tickets for the ferry aren't free, this is one of the more affordable options.
You get to actually visit the island and see the Statue of Liberty as close as is possible.
There's even a great view from the ferry on the ride over, so you can still get that iconic Statue of Liberty photo from the water.
Cons:
Depending on which type of ticket you'd like to get, you might have to do some serious planning ahead.
This is one of the longer options as you'll be waiting in line for security, riding the ferry to the island, exploring the island, and then waiting in line again to board the ferry back. Of course, you always have the option of staying on the boat, but all that work of securing tickets wouldn't be worth it to not step foot on the island.
If you are interested in taking Statue Cruises, the best method for purchasing tickets is online. You can double check the ferry schedule online and explore different ticket options. All of the ferries depart from behind Castle Clinton in Battery Park.
4. Battery Park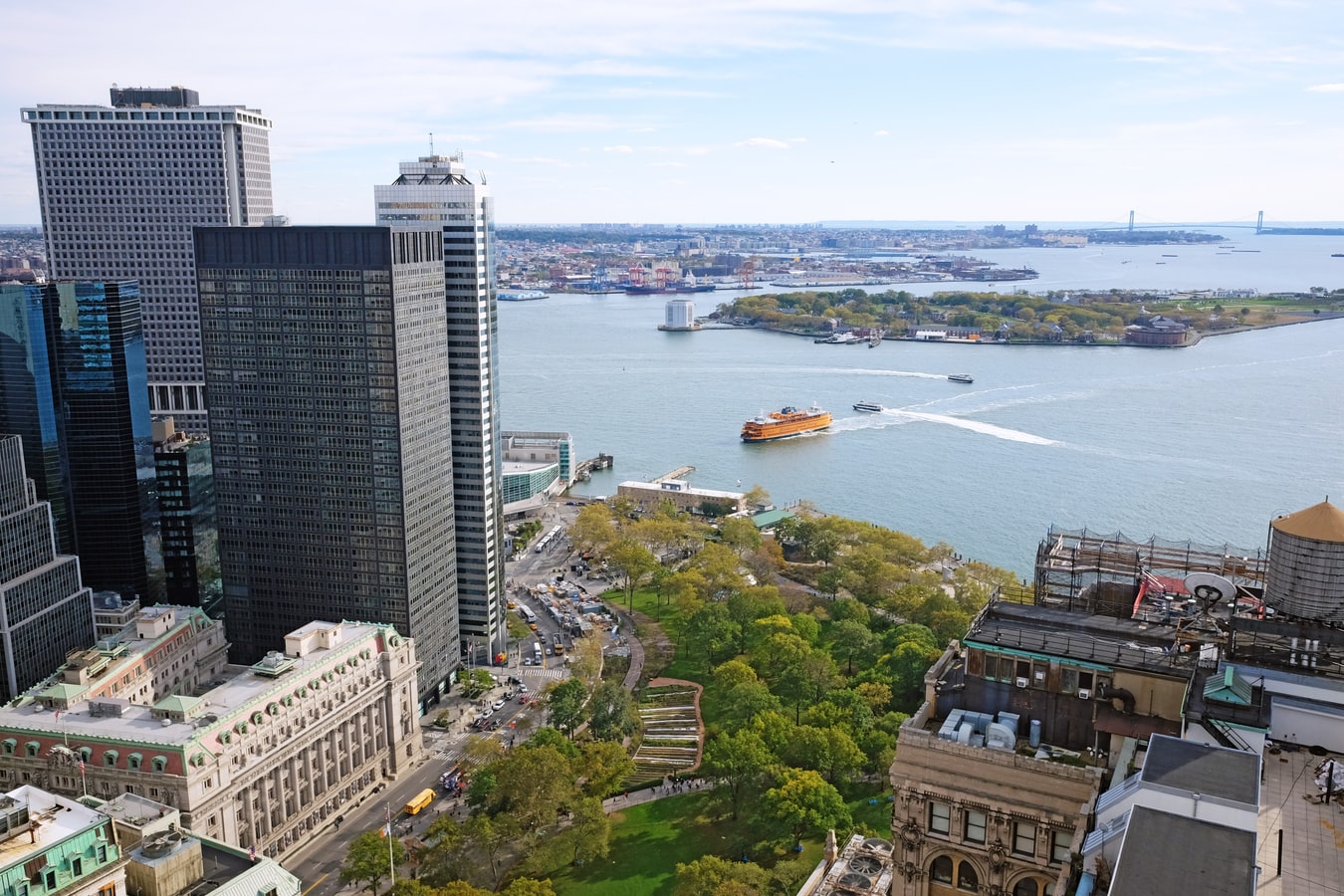 Battery Park is the southernmost point of Manhattan. If you walk through the park, towards Castle Clinton, the edge offers you a beautiful view of the Statue of Liberty, Ellis Island, Brooklyn, Staten Island and New Jersey.
Pros:
This is another free option for viewing the statue.
It's easy. There is almost no planning involved. No schedule to follow or tickets to book. If you're already in Lower Manhattan you can stop by Battery Park in less than 20 minutes.
It's very quick. You could be in and out of the park in 10-15 minutes.
If you're someone who prefers to avoid traveling by boat or helicopter, this is the best option for you.
Cons:
This is probably the worst view on the list. From the park, you don't really see the front of the statue, only her left side. Plus, because the statue is off in the distance you won't see as many details as you would up close and any photos you take won't come out as nice.
Battery Park itself is also nice to explore. You'll see monuments dedicated to Korean War Veterans, Castle Garden Immigrants and American Merchant Mariners (among others).
5. Guided walking tour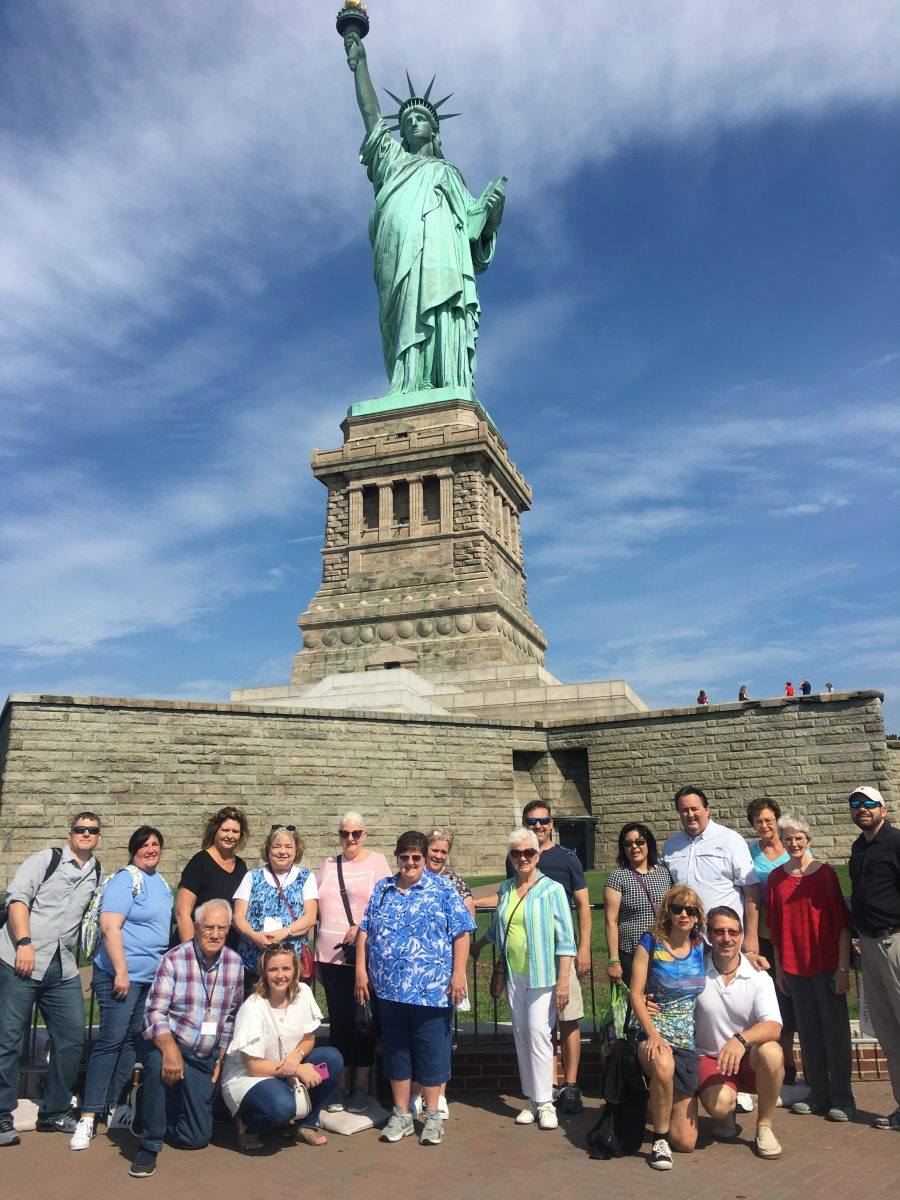 You might be thinking to yourself, why would I need a guided tour to see the statue? Well, you really don't. But it makes seeing the statue a lot more fun and memorable. Having a tour guide leading the way means you'll learn more about the statue and its history.
Plus, you get your own personal photographer to help you snap that perfect shot!
Pros:
Be efficient with your time. Guides have been to the statue many times. They know the best places to go for pictures, souvenirs, etc. Being with a guide means you are seeing as much as possible as efficiently as possible. No wasted time waiting in line or wondering where you should go first.
You'll learn a lot about the statue from an expert. Instead of traveling all that way just to snap a picture, become immersed in the story of one of the world's most famous monuments. And hopefully leave Liberty Island with stories and knowledge to share with your friends and family.
There's some flexibility. While it isn't guaranteed, many tour companies offer the ability to book a tour as late as the morning of. This means you could score tickets to the statue without waiting in line or buying ahead of time.
Cons:
Joining a tour means committing to someone else's schedule for your trip. This means you might need to skip certain things or not be able to linger too long with something you enjoy. Many tours offer free time, but you'll still need to stick with the group.
Timing is strict. Tours are typically on the longer side. If you're someone who's on a time crunch, it's probably best to see the statue on your own rather than joining a group. Plus, you might have plans that conflict with the timing of the tour. Unlike the helicopter or harbor cruise, there usually aren't as many tour times offered per day.
If this sounds like something you might enjoy, check out one of our Statue of Liberty tours. We offer both a tour that includes Ellis Island and a 2-3 hour express tour of the statue. Our local New York guides are dedicated to ensuring you the best experience possible at the statue.
6. New York harbor cruise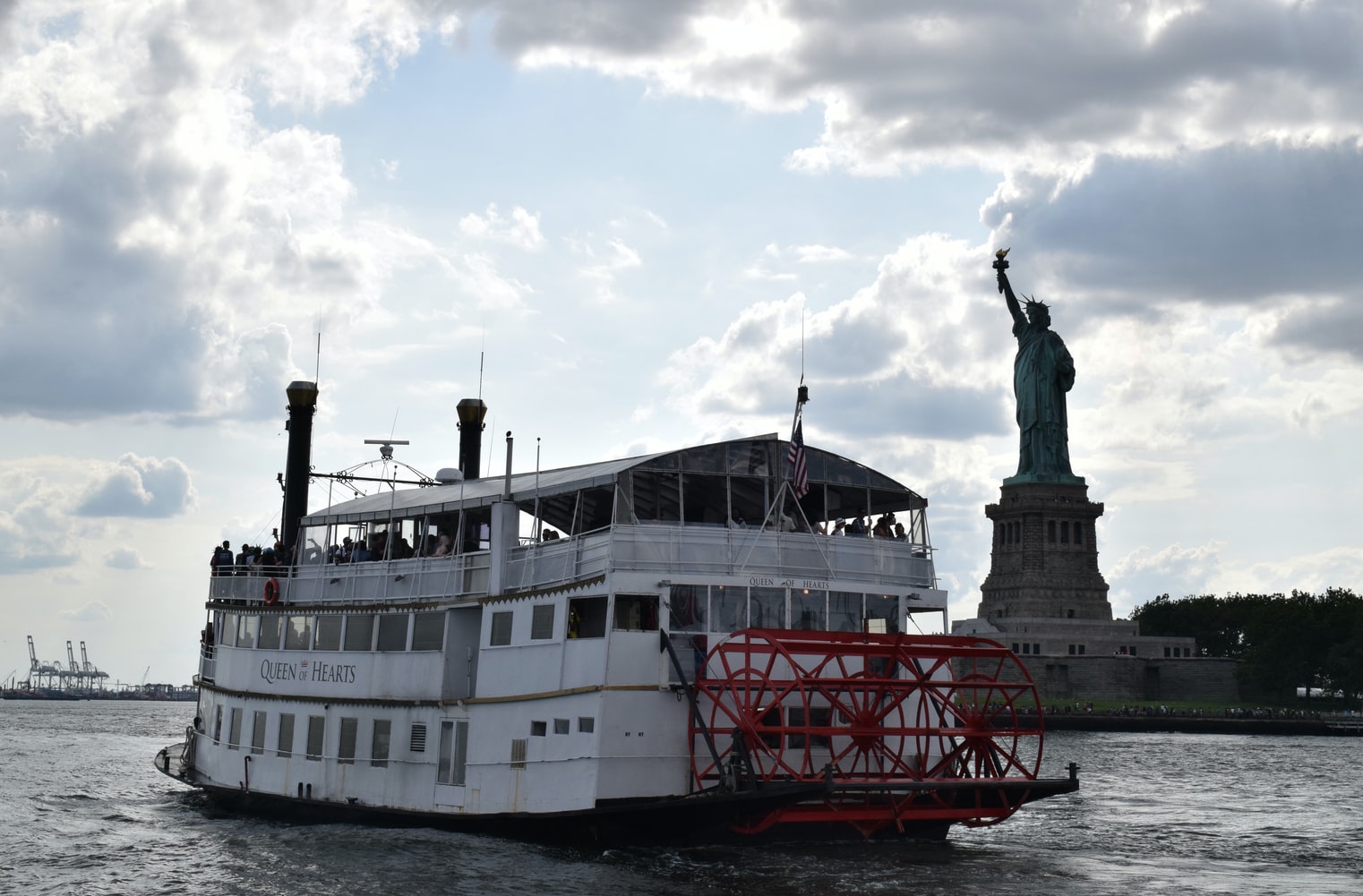 A harbor cruise is a quick and fun way to see some of the city's most famous sights from the water. Boats will bring right up to the front of the statue for great views and top-tier photos. Chances are you'll learn a bit about the statue and the rest of New York along the way.
Pros:
There's more options. There are dozens of sightseeing boat tours to choose from so you can certainly get the best deal for you and your group. Plus, you can decide exactly what you want to see and how much time you want to spend.
You get to relax more. There's no lengthy walking involved, no waiting in security. Once you purchase your ticket you just sit back, relax and enjoy the beautiful view.
Cons:
Many people ride these boats thinking they will be allowed to get off at Liberty Island. Only Statue Cruises is permitted to do this. So don't think you're cutting any lines or saving time by taking a harbor cruise instead.
The boarding area for many of these companies is pretty out of the way. It won't be near anything else you'd like to do or see and they're often a bit difficult to get to.
Ticket prices vary from company to company but will most likely fall in the $30-$50 per person range. It fully depends on which company you book with, but most harbor tours leave from one of the west side piers in midtown. The best way to get there is by car, as the docks are a pretty far walk from most trains. Most companies will have ticket counters, so buying in advance is not necessary, although it's always recommended to guarantee availability.
Many views, one statue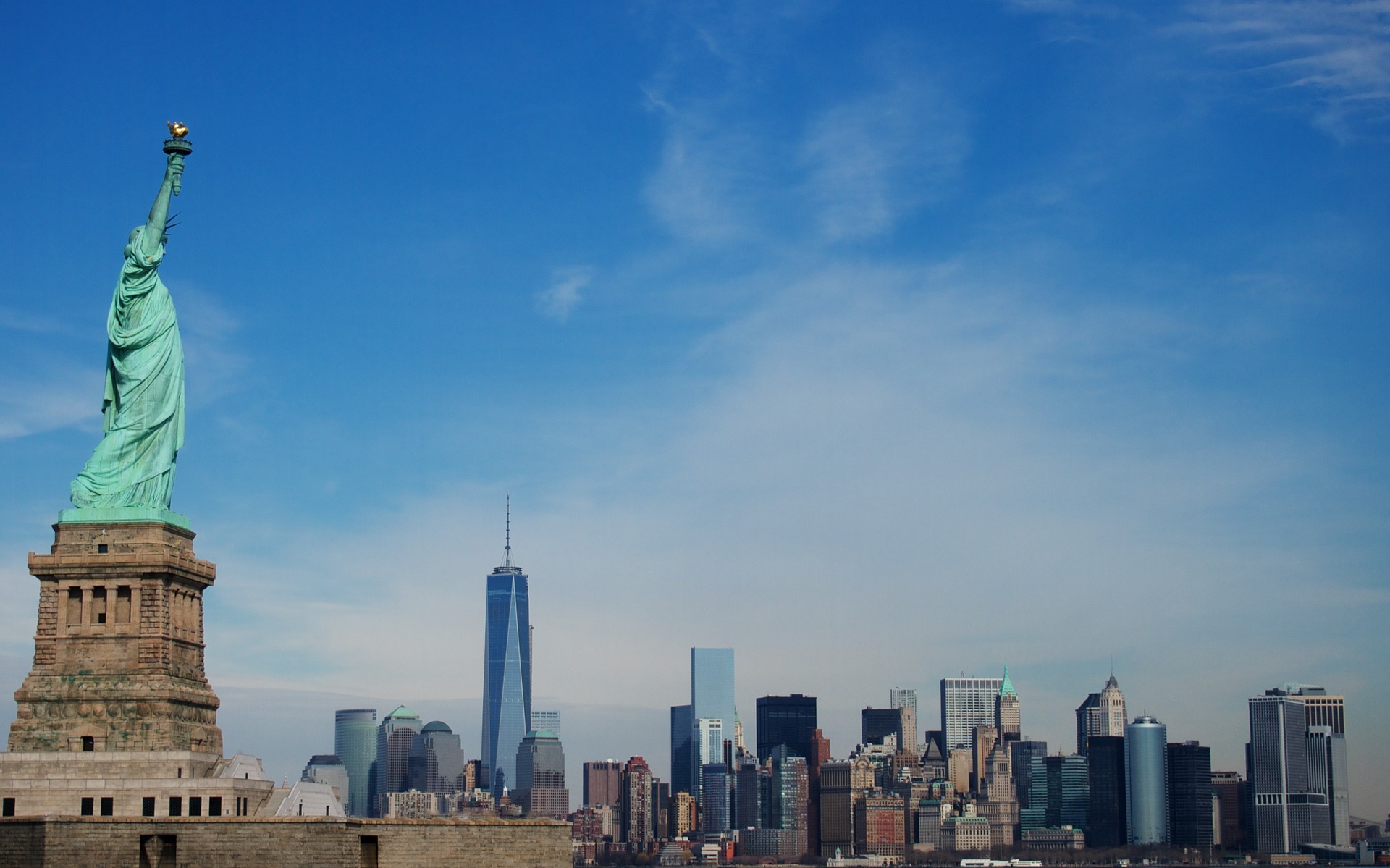 At the end of the day, no matter how you decide to see the Statue of Liberty, it's going to be an unforgettable experience. Hopefully this guide gives you a better sense of which method is right for you and helps to make planning your visit that much easier.
Interested in learning more about the statue before your trip? Check out some of the weirdest Statue of Liberty facts you never knew.