Visiting the Statue of Liberty is one of the most exciting things to do in New York City. It might seem like a tourist trap, but there's so much to learn and it's actually quite cheap compared to other attractions in the city.
However, planning your visit can be overwhelming. That's why we're here to walk you through every step from buying your tickets to avoiding a scam. We'll answer any questions you might have to ensure that you're prepped for your next visit.
How to get tickets to the Statue of Liberty
The process for buying tickets to the Statue of Liberty can be done online or in person. If buying in person, you simply stand in line at Castle Clinton in Battery Park on the day of your visit.
If you choose to buy tickets online, here are the steps to take:
Before your trip, visit the Statue Cruises website and select "Statue of Liberty & Ellis Island Tickets."
Choose which type of ticket you would like to purchase (Reserve, Pedestal Reserve or Crown Reserve).
From there you will choose which park you are departing from. If you are coming from New York City, select "Battery Park."
Then you will select a date, reservation time, and the number of adults, children, and seniors.
Enter your billing and payment information.
Once the purchase is complete, you can choose to either print your tickets OR pick them up at Will Call inside Castle Clinton.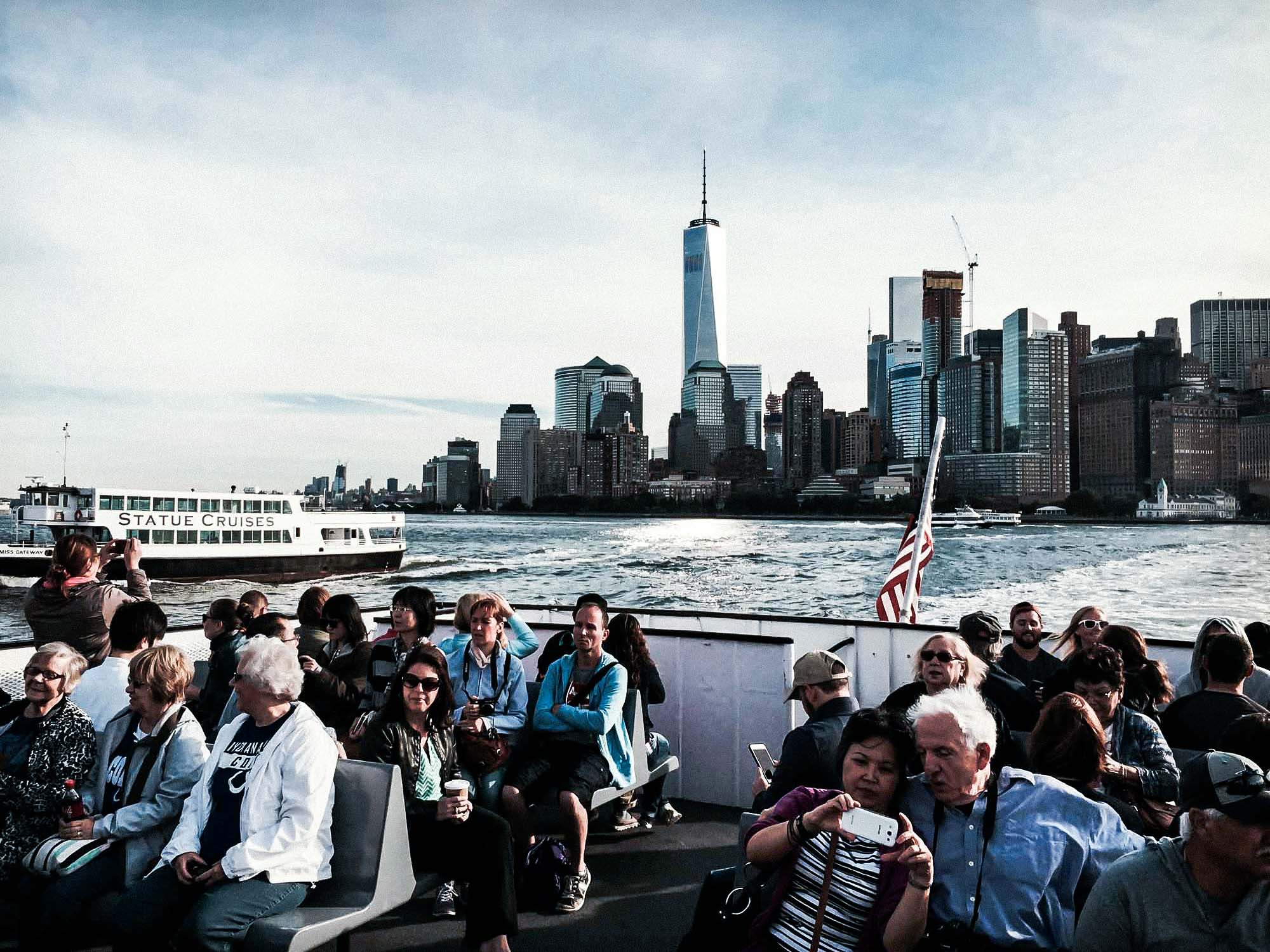 How much are tickets to the Statue of Liberty?
The price for each ticket depends on which type of ticket you choose to purchase. There is no price benefit to buying a ticket in advance besides saving time when you arrive. Any child under the age of 4 gets free admission, no ticket required.
COVID-19 note: Access to the Statue of Liberty crown is still closed due to the pandemic. The crown will be part of a later reopening phase. The Liberty Island Information Center is also closed at this time. Everything else on both islands is open.
Type of Ticket

What You Get

Price:

Adults

Children

(4-12)

Seniors

(62+)

General Admission

Round Trip Ferry Service
Priority Boarding
Liberty Island Museum
Ellis Island Immigration Museum
Statue of Liberty Audio Tour

$23.50
$12
$18
Pedestal Reserve Ticket

Round Trip Ferry Service
Priority Boarding
Liberty Island Museum
Ellis Island Immigration Museum
Statue of Liberty Audio Tour
Access to the Statue of Liberty Pedestal

$23.80
$12.30
$18.30
Crown Reserve Ticket

Round Trip Ferry Service
Priority Boarding
Liberty Island Museum
Ellis Island Immigration Museum
Statue of Liberty Audio Tour
Access to the Statue of Liberty Pedestal
Access to the Statue of Liberty Crown

$23.80
$12.30
$18.30
Where to buy tickets for the ferry
The cost of the ferry is included in your Statue of Liberty ticket. No additional ticket purchase is necessary. Statue Cruises ferries are the only way to access Liberty or Ellis Island. The boats run to both islands providing round trip transportation.
How much does the ferry to Liberty Island cost?
Since the cost of the ferry is included in your ticket, the price for the ferry is the same price as the cheapest ticket.
For adults (13 to 61): $23.50
For children (4 to 12): $12
For seniors (62+): $18
Are Statue of Liberty tickets refundable?
For any ticket, there's a possibility of a full refund if the cancellation is made in advance, typically at least 24 hours before your departure time. (Note that this is the same for our tour.)
A full refund will also be provided if the islands are closed for security, safety, or weather. An unused ticket can't be refunded.
Refunds must be submitted online and will be processed in two weeks.

How to get skip-the-line Statue of Liberty tickets
In order to "skip the line" you must purchase a Reserve, Pedestal, or Crown ticket.
Skip-the-line ferry tickets definition: These are the priority tickets that have assigned boarding times and a separate line while waiting for the ferry. Since only a certain number of tickets are sold per time slot, this makes your overall wait shorter as well.
You select the assigned boarding time when purchasing your ticket. This time tells you when you're allowed to enter the ferry line.
Here some answers to questions people often ask about skip-the-line Statue of Liberty ferry tickets.
When is the earliest time available? It's a half hour before the first ferry departs.
How long are time slots? They're each an hour long.
Can you get into line after your time has passed? Yes, entering the ferry line after your time slot is fine, just not before.
There are no skip-the-line tickets for the pedestal or the crown. Once you arrive at Liberty Island, you'll have to wait just as long as everyone else with a pedestal or a crown ticket. Consider it part of the experience!
Can you buy tickets for the Statue of Liberty the day of?
You can buy tickets the day of, either online or in person. If buying online, the process is the same, except your reservation time options will be fewer. If you choose to buy in person, you must visit Castle Clinton in Battery Park and wait in line.
Tips to remember if you're buying same-day statue tickets
Crown tickets: Keep in mind that crown tickets are always sold out the day of, and there's a chance pedestal tickets could be as well.
When to get there: The earlier you get to Castle Clinton, the less time you'll spend waiting. The ticket office opens 30 minutes before the first departure so you can have your tickets bought before the first boat even leaves.
How long it takes: When you buy in person, the line could be anywhere from five minutes to an hour. It really depends on the time of year and crowd levels.
Besides the possibility of waiting in a very long line, there are other risks that come with buying your tickets the same day. The last boat from Battery Park leaves between 3-5 p.m. (depending on the season), so if you arrive to buy your tickets at 2 p.m. there's a chance you will miss the last ferry.
Also, it takes time to see both islands. So if your goal is to see Liberty and Ellis Island during your trip, you need to make sure you have your tickets purchased before noon. This can be tricky when lines are unpredictable.

Advance tickets to the Statue of Liberty
Advance tickets to the statue are purchased online, using the process mentioned above. If you prefer, you can also call to purchase tickets.
Statue of Liberty ticket line number: 201-432-6321.
Remember that general admission, pedestal and crown tickets can be purchased in advance online. They used to offer flex tickets, purchased the same day in person at Castle Clinton, but now there is one simple general admission as well as the separate ticket for pedestal and (when it opens) crown access.
Guide tip: Generally, buying tickets in advance is better and easier. You'll spend less time waiting in line, you can guarantee that you'll be able to see everything you want to see, and you can better plan out your visit. There's no cost savings with buying in advance, but it saves on convenience!
How to get tickets to the pedestal
A pedestal ticket includes access to the inside of the statue's pedestal as well as the 360-degree outdoor balcony that sits just below Lady Liberty's feet.
You can buy tickets for the pedestal online or the day of at Castle Clinton. Just be sure to ask for a "pedestal reserve ticket."
Availability is not guaranteed since only a few thousand people are permitted inside each day. If you're set on climbing the pedestal, it is best to buy in advance.
After you buy, you can choose to print the tickets yourself or pick them up at Will Call. The pickup window is located inside Castle Clinton.
How to get tickets to the crown
COVID-19 reminder: Access to the Statue of Liberty crown is currently closed due to the coronavirus pandemic, but we've provided info below that applied pre-pandemic so you have it for reference when the crown reopens.
Crown tickets include access to the pedestal as well as the crown of the statue.
After you climb the initial 192 steps to the pedestal, it's then another 162 steps to reach the crown. Inside is a small viewing platform with 25 windows.
What you can see from the crown: The view is mostly of Brooklyn and New York Harbor, with Manhattan just peeking through in the corner. Here's what I saw when I visited the Statue of Liberty crown.
Crown ticket availability: Crown tickets are very difficult to get as only 300 are sold each day. You must buy crown tickets in advance as they're always sold out the day of. Tickets can be bought online by selecting "Crown Reserve Ticket."
When to buy crown tickets: Aim to purchase your crown ticket at least 3-4 months in advance.
Unlike pedestal tickets, crown tickets must be picked up at Will Call. You'll get an additional wristband to signify your crown access (very fancy) and must present a photo ID for yourself and anyone picking up a crown ticket.

Admission to the Statue of Liberty Museum
The Statue of Liberty Museum is located on Liberty Island, and admission is completely free. So no matter which ticket you purchase, it will also be your ticket to visit the museum.
There's no need to show your ticket to enter the museum and you can visit at any point during your time at Liberty Island.
Scam alert: Fake tickets to the Statue of Liberty
There is a recurring problem with tourists being tricked into buying tickets to the Statue of Liberty when, in reality, they've actually bought tickets for a boat that takes them near the statue.
Not only are these fake tickets more expensive, but they're essentially a scam since people are promised something that they won't get. This is what Alec Baldwin complained about that got so much press.
Important: The only company that has authority to bring you to the statue is Statue Cruises. If the ticket is not sold by that company or an affiliated third party, you will not be taken to Liberty Island. If you're taking a guided tour with a company like ours, we purchase the ferry ticket for you and you ride over with your guide who takes you on a tour of the island — but you're still taking the Statue Cruises boat to the island.
A lot of times, these scammy sellers will approach you at Battery Park and say anything to convince you to buy from them. They might tell you that the wait is three hours or that their view is better. Make sure you know what you're buying before you purchase. There's no faster way to see the Statue of Liberty than taking the ferry using a skip-the-line ticket, whether with or without a guided tour. If someone says something else, be careful!
Guide tip: My advice? Ignore the street sellers. Even if you're headed to Castle Clinton to buy the tickets the day of, see for yourself just how long the line is and decide if it's worth it to you to actually visit the island that day, return another day, or settle for a boat ride that takes you near Liberty Island. If you opt for the boat ride, please do your research on reputable companies rather than getting pressured into buying something you're not sure about.

How to see the Statue of Liberty for free
Wondering how to see the Statue of Liberty for free? You're not the only one — which is why we wrote a whole blog post just about that.
If paying to see the Statue of Liberty doesn't interest you, there are a number of ways to see it from a distance for free. Of course, the view won't be as up-close as the one that you pay for on Liberty Island, but in my opinion, Lady Liberty is always beautiful.
Here are some places you can check out:
Edge of Battery Park: You'll see the Statue of Liberty rising from the surrounding bay and a horizon filled with the skylines of Staten Island and Brooklyn.
The Staten Island Ferry: Take a free boat ride that offers views of the statue, Ellis Island, Brooklyn, and Manhattan. Here's a handy Staten Island Ferry guide one of our other NYC tour guides wrote about that has lots of helpful info.
Liberty State Park in New Jersey: This beautiful park along the Hudson River also offers an amazing view of the Manhattan skyline and Ellis Island.
Where to buy tickets for Statue of Liberty tours
Tours of the Statue of Liberty typically means a guide will meet you in Battery Park and lead you through one or both islands. It can make the whole experience easier and more meaningful.
Benefits of having a Statue of Liberty guide
Guides help you manage security before getting you on the boat.
They prep you for what to expect at Liberty and Ellis islands.
They keep you entertained on the ride over.
They orient you at the islands so you don't miss anything.
They enrich your experience and handle all the details to make it easy.
There are dozens of different companies that offer tours to the Statue of Liberty. Sites like TripAdvisor and GetYourGuide list options. Read reviews and get to know more about the company and what they offer before making your decision.
What's usually included: Typically a tour company will include your ticket in the cost of the tour. Just double check where exactly the tour will take you. Some companies offer tickets to the pedestal while others only guide you around the island. There are no tours allowed inside the museum or crown. So be prepared to tour the museum on your own, and make sure to purchase your own ticket if you wish to visit the crown.
Our tours
Our express tour is two hours, and our guide takes you on a tour of Liberty Island. You'll have the option to see Ellis Island on your own if you like.
Our full tour is comprehensive. It also includes a guided visit to Ellis Island.
How much does it cost to visit the Statue of Liberty?

While the initial ticket prices (ranging from around $12-$24 depending on your age) aren't overly expensive, the cost of visiting the statue adds up quickly. There are other costs to take into account as well.
Food: Food is available on both islands and may be necessary if you're planning on staying for a few hours. Prices range from $10-$25 per meal, depending on what you get. You can choose to bring food in order to save money, but if you're planning on visiting the pedestal or crown, it must be placed in a locker. Excluding water, food and drink aren't permitted inside the statue.
Transportation: To get to Battery Park, taxi cabs are an option but can be expensive. The cheapest option is the subway. At $2.75 a swipe, you can travel far for little money. Take the 4 or 5 train to Battery Park for the most direct route. You could also take the R or W train to Whitehall Street or the 1 train to South Ferry.
Parking: There are plenty of parking garages nearby if you're traveling by car. But these tend to be pricey. Most garages will start at a rate of about $20 per hour.
Souvenirs: Finally, many people love a good souvenir. There are three different souvenir shops on Liberty Island, all of them with a wide range of products. Unless you're sure you don't want anything, I would set aside $30-$40 dollar for souvenirs. You never know what you might decide you'd like to have. Of course, taking your own photos is always free!
Tips from a guide for getting Statue of Liberty tickets
As you can see, getting tickets to the statue isn't overly difficult. You just have to know what you want to see and when you want to buy.
There's plenty of options, including booking a guided tour. Personally, I think signing up for a guided tour is the best way to experience both islands, although — full disclosure — I'm a local NYC guide. But it is a great way to help you learn more and enjoy your visit stress-free.
Here are my best tips for statue ticket success:
Buy them in advance online. I've seen the line for same-day ticket purchases stretch all across the park with 2-3 hours of wait time. Spending the time to buy online, whether with a tour or without, seems worth it to avoid that headache.
Print your tickets: I also recommend printing the tickets yourself in order to avoid Will Call. While there is hardly ever much of a wait, it means you can arrive and head right for the ferry.
No matter what you choose, visiting the statue is not nearly as complicated as some people think. Over 4 million people do it per year. With these tips to help with your visit, you'll be more prepared and the experience will be that much easier and more enjoyable