Where to Eat When You Visit the Statue of Liberty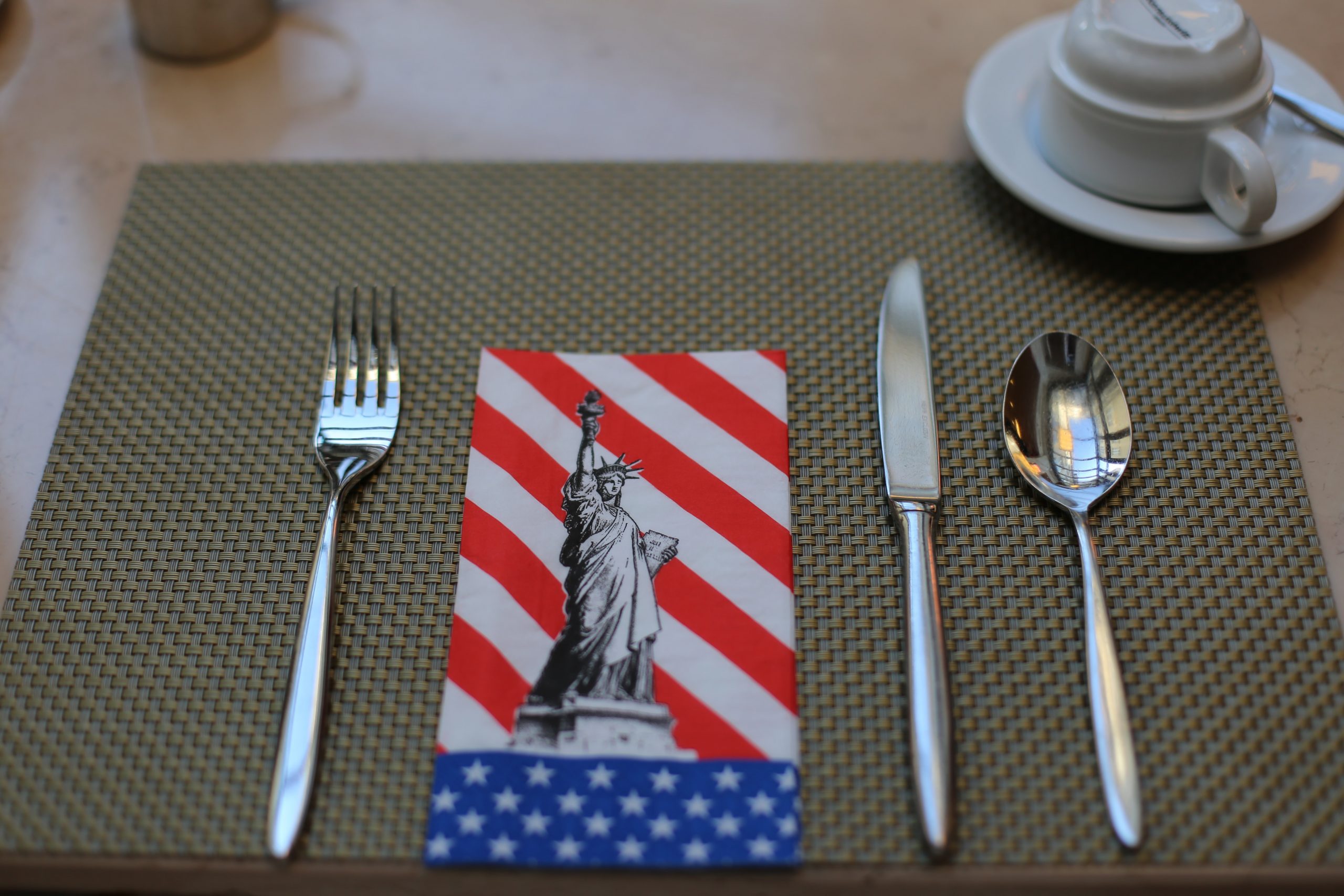 Planning a visit to the Statue of Liberty and Ellis Island requires some thinking ahead. You have to decide which type of ticket to get, when you want to go and how you should visit. Part of that could also involve choosing where to eat.
Seeing the statue takes a good amount of time and chances are you'll come back hungry. Here's some of my favorite places to eat both on the islands and in and around Battery Park. The park is both where you'll catch the ferry and be dropped off when you're done. So you could visit any of these places either before or after your visit.
Cafes on the Islands
#LugaresChic Statue of Liberty Crown Cafe, genial para comer y ver New York desde la Estatua de la Libertad https://t.co/BDyI0dKYAk pic.twitter.com/TpTc2f9tcO

— REVISTA TODO LO CHIC (@Rev_TodoLoChic) May 17, 2019
Liberty and Ellis islands have places to eat if you're hungry. The menu at both the Statue of Liberty Crown Cafe and Ellis Cafe is traditional American: burgers, sandwiches, salads, etc. It's definitely a bit on the pricier side, but for what it is, the food is actually pretty good. If you'd rather combine your lunch or dinner with your Statue of Liberty visit to save time, either one of these cafes is a great option.
The cafe at Ellis Island even has a weekly special inspired by one of the many immigrant countries of origin. These tend to be more upscale meals featuring beef, chicken cutlets or sometimes even lamb.
Rating: 3/5. The food is genuinely good. But, if you're in New York, why not wait to experience something more quintessential to the city instead of the generic food on the islands.
Nathan's Hot Dog Cart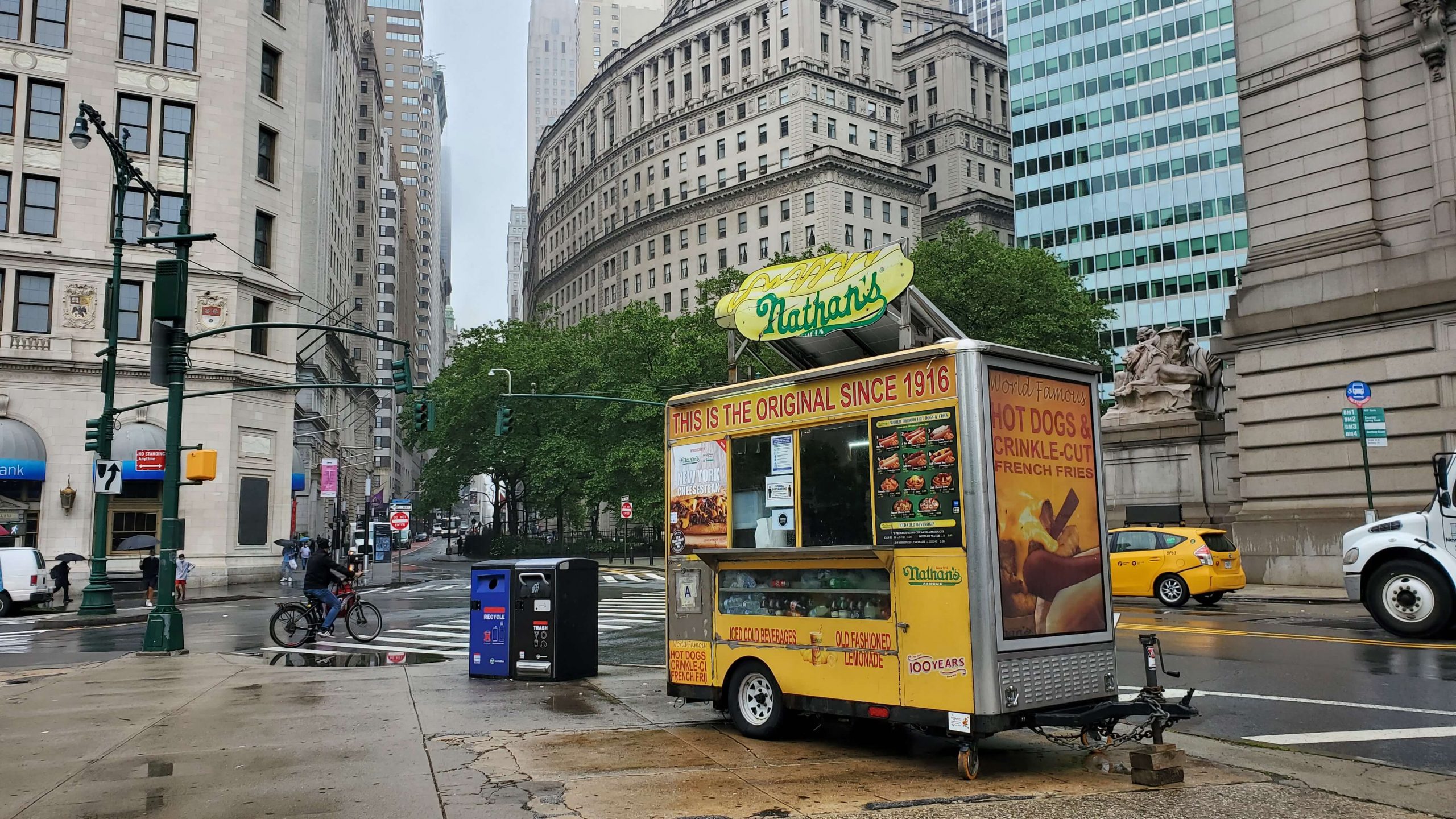 There are hundreds of hot dog carts around New York, but most of them aren't worth your time. Nathan's is a tried-and-true NYC institution — starting in Coney Island in 1916.
Most hot dog carts you see will boil their hot dogs. Nathan's does it the right way, by cooking them on a grill. So skip all the generic hot dog stands and save yourself for Nathan's. You'll find their carts all throughout Manhattan, including right at the edge of Battery Park.
Rating: 4/5. Nathan's is a classic NYC institution. A hot dog might not be the most glamorous of meals but it's quick, cheap and (if it's from Nathan's) definitely satisfying.
Stone Street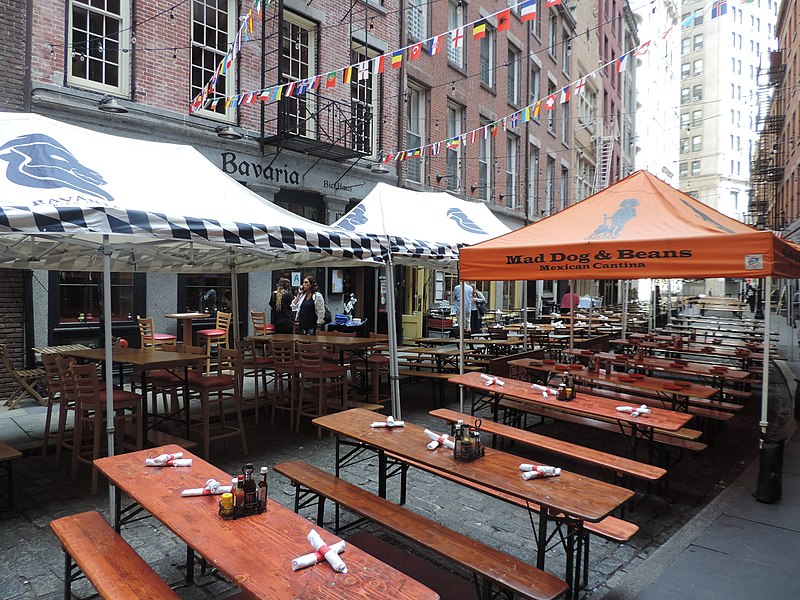 Between William & Pearl, a small section of Stone Street is blocked off from the rest of Lower Manhattan by a towering office building. This little slice of the road is restricted for vehicles and paved with cobblestone from edge to edge. The buildings are all Dutch revival architecture, making this one of the most picturesque streets in New York.
Not only is the street beautiful, but it's lined with all types of restaurants. From barbecue to pizza, Mexican, Irish food — you name it! There's even a fantasy themed magic pub. This street is a great place to come after your morning at the Statue of Liberty.
Rating: 5/5. Personally, I feel like you can't go wrong with Stone Street. There's so many dining options to choose from and the street is awesome. I would, however, try to avoid it on a very cold or rainy day.
Eataly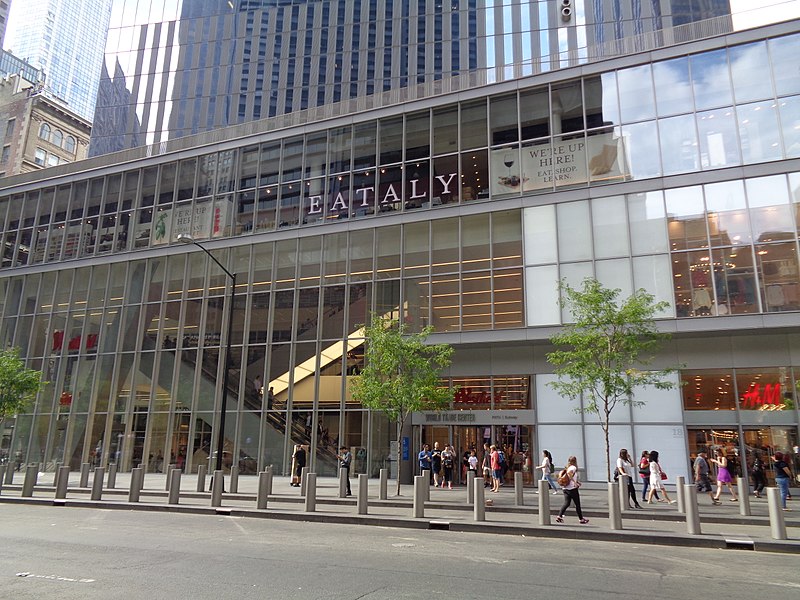 While Eataly is technically an Italian grocery store, there are multiple restaurants and food stands inside. You can grab a slice of margherita pizza, visit the pasta bar, or relax at one of their sit down eateries.
There isn't much variety in food. It's an Italian market after all. But all the food is fresh and very well-made.
Rating: 3.5/5. All the food is really good and top of the line in terms of freshness. But, as I said before, there aren't too many choices and it's definitely on the pricier side.
Whitehall Terminal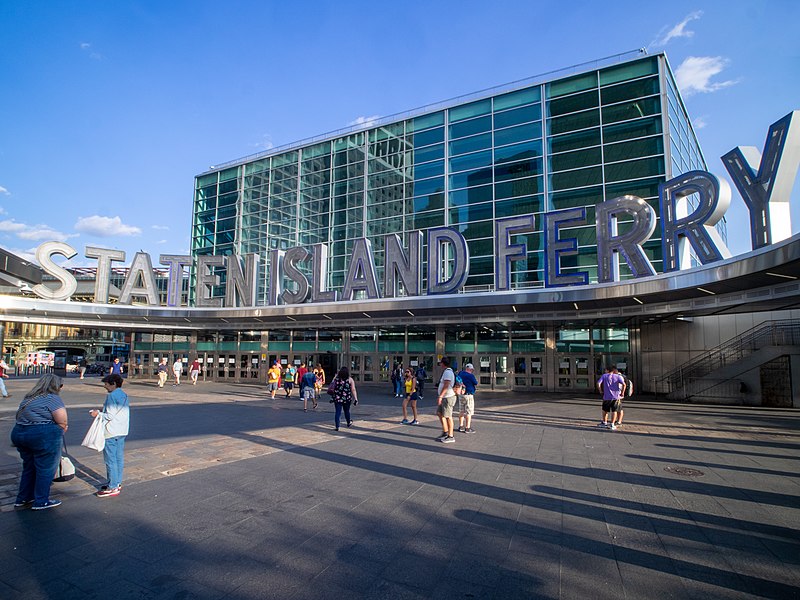 The Whitehall Terminal is where the Staten Island Ferry departs. It's essentially one big ferry terminal, but inside are a number of food stands. You'll find popular chains like Wendy's and Dunkin'.
There aren't any tables but you can almost always find seats amongst the waiting area for passengers standing by for the next ferry.
Rating: 2.5/5. If you're traveling with a super picky eater or trying to find something really quick and cheap, this could certainly be a good option. Otherwise, skip the name brands and expand your horizons a bit by exploring other options in the city.
Pier A Harbor House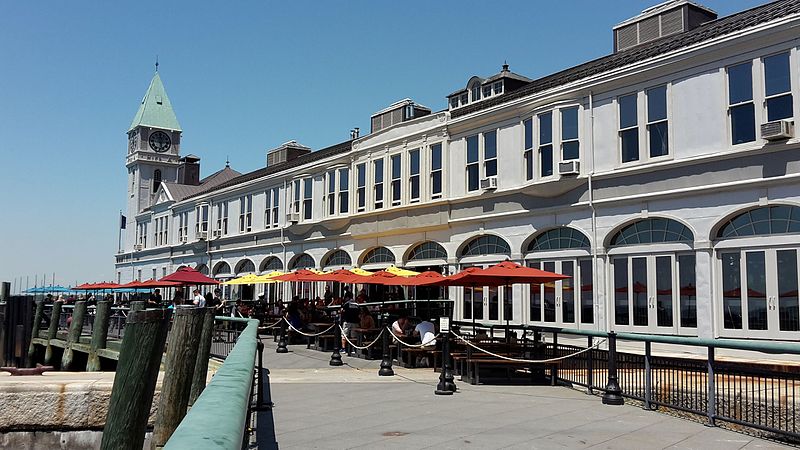 This casual waterfront dining venue features both indoor and outdoor seating with a menu full of seafood, beer and bar classics. It's only steps away from the Statue of Liberty ferry and is a great place to take in the view of New York harbor. The building itself is even a city landmark.
While it's currently closed due to COVID, it's normally a super convenient and enjoyable option for lunch or dinner.
Rating: 4/5. The menu is slightly limited but the view is unbeatable and it's about the closest you can get to dining near the ferry.
Brookfield Place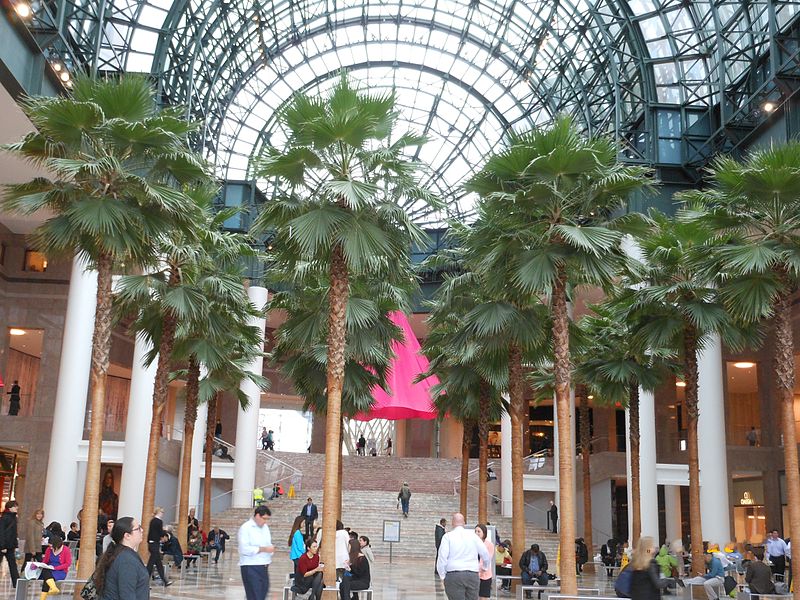 Brookfield Place is a spacious indoor shopping center with a decently sized food court. There's burgers, barbecue, tacos, cupcakes and so much more. If you're looking to sit for a while there's plenty of booths and tables available.
Getting there is a tad confusing. You can either walk up the west side of Manhattan or take the World Trade Center tunnels underneath the memorial and come up the other side. Whichever way you go, it's about a 10-15 minute walk from Battery Park.
Rating: 3.5/5. This is more like an upscale food court than a restaurant. While the food is good and the options are plenty, it might be too fast-casual and out of the way to be considered a top dining destination.
Not interested in anything so far? Go out and explore.

Lucky for you, Battery Park is located in one of the city's most popular neighborhoods: the Financial District. So if nothing I mentioned strikes a chord, just take 15 minutes and walk the streets. I guarantee you'll be able to find something you enjoy.
Finding that ideal spot to sit, eat, and relax is the best way to complete your perfect day at the Statue of Liberty & Ellis Island.