Best Restaurants With a View of the Statue of Liberty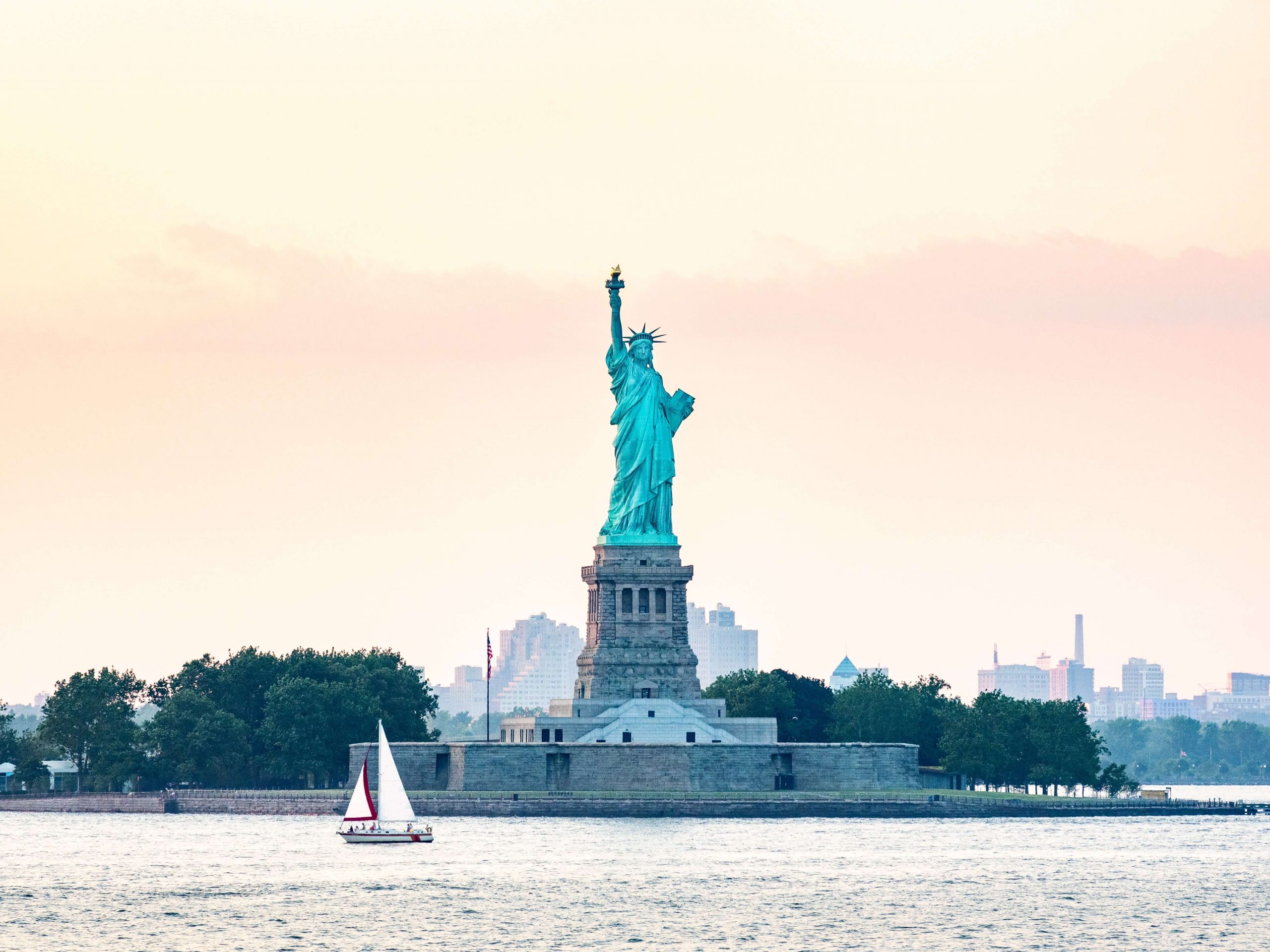 There are almost 30,000 restaurants in New York City. Without a doubt, the number of choices is overwhelming and it can be hard to pinpoint where and what you should eat during your trip.
The "what" is debatable — it depends on who you ask. (Pizza and bagels, for me.) But if you're looking for restaurants with a great view, there are quite a lot where you can find some of the best views of the Statue of Liberty.
Whether you plan to visit her on your trip or not, dining with a background of one of the city's most famous monuments is sure to make your experience that much better. So I've compiled a list of the six best restaurants with a view of the Statue of Liberty. Enjoy!
Gigino at Wagner Park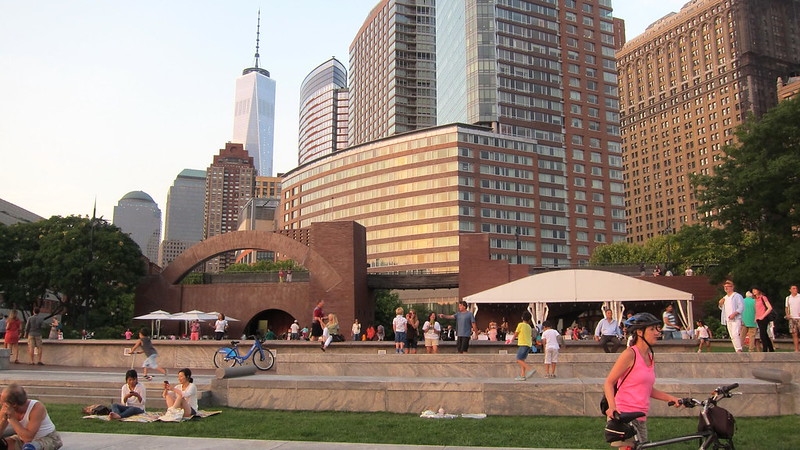 Wagner Park is a small open lawn space, just north of Battery Park on the west side. Gigino is a lovely, waterfront Italian restaurant inside the park, with unobstructed views of the Statue of Liberty and Ellis Island.
When the weather is nice, the outdoor patio is a great spot to grab some lunch. But there's indoor seating as well if the forecast isn't too favorable.
The menu features classic Tuscan cuisine with favorites like bruschetta, penne alla vodka and pesto ravioli.
Merchants River House
View this post on Instagram
Merchants River House is located a bit further uptown, in Battery Park City. Because it sits right along the Hudson River, at the edge of Manhattan, diners (especially those sitting on the south side) get great views of the Statue of Liberty and New York Harbor.
The inside is styled like a classic American Bistro with striped wallpaper and wooden tabletops. There are also huge windows, making for great views no matter where you sit. But if you opt to go outside, there are two spacious outdoor terraces as well, featuring some lounge seating and a pretty floral mural.
Merchants River House serves casual, family-friendly American favorites like spinach artichoke dip and their signature burger. Or get your camera ready for their famous and perfectly Instagrammable Quartet of Mac-N-Cheese Cones.
The View at Battery Park
View this post on Instagram
As you can tell by the title of this aptly named eatery, The View at Battery Park is right inside Battery Park near one of the best viewpoints for the Statue of Liberty. While the venue is sometimes used as an event space, you can still dine here for breakfast, lunch and dinner.
Formerly known as Battery Gardens restaurant, The View is a waterfront property right inside the beautiful gardens of Battery Park. There's outdoor waterside seating with a separate outdoor bar and a beer garden as well.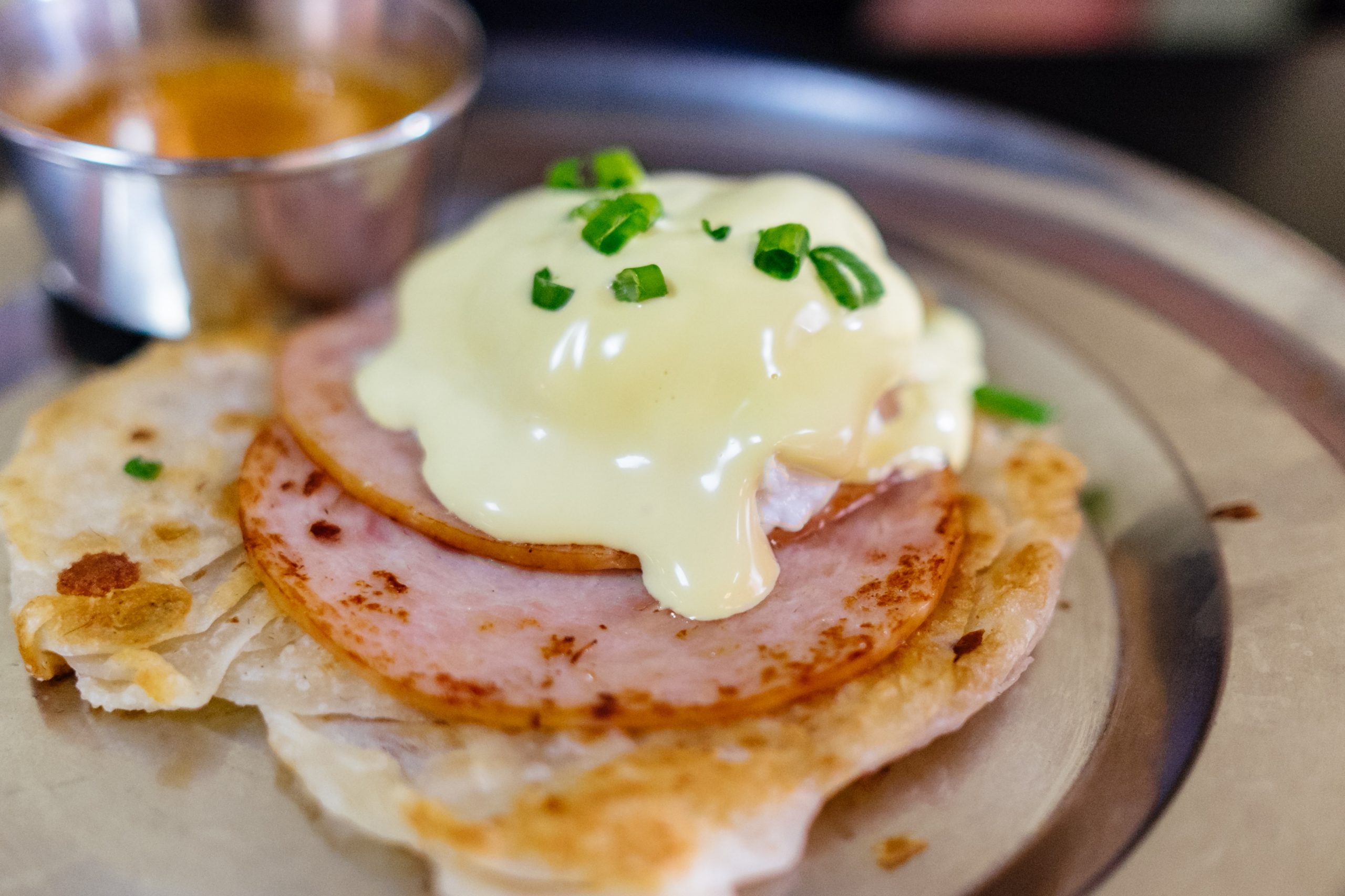 The menu and decor are slightly upscale and pricey — something to be aware of before you visit. The brunch options range from classics like eggs benedict to the more unique brie and apple omelet. Dinner includes options like pasta, steak and burgers, with a good amount of seafood choices too.
River Cafe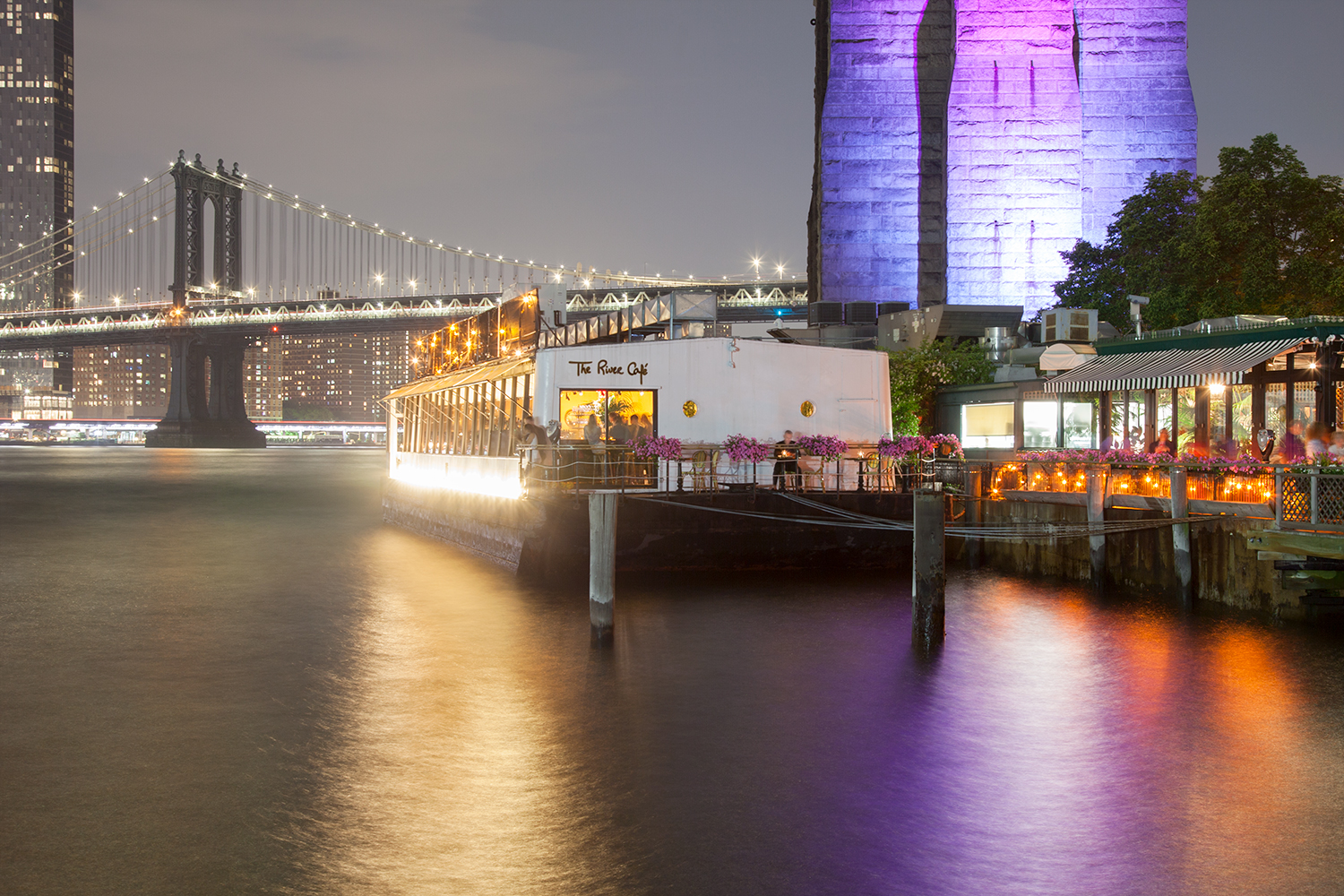 For our next spot, we're traveling into Brooklyn (specifically Brooklyn Bridge Park) for the River Cafe. This restaurant is a treasured New York City landmark, in business since 1977, with an elegant dining room and Michelin starred menu.
As you've probably guessed by now, this is one of the fancier and more expensive options. The dress code requires proper dinner attire. That means casual footwear (sandals, sneakers) isn't permitted and men are asked to wear jackets and collared shirts. Ties aren't required but are preferred.
If you're looking for a fabulous night out, with an amazing view of Manhattan and the Statue of Liberty, this is the place to be. Dinner is served starting at 5:30 and features a prix fixe six-course menu.
One World Observatory
View this post on Instagram
Journeying from Brooklyn to almost 2,000 feet in the air, the next restaurant is inside One World Observatory. This indoor observatory is at the top of One World Trade Center (otherwise known as Freedom Tower) and gives visitors a sweeping birds-eye view of Lower Manhattan and New York Harbor.
The restaurant is known as ONE Dine. The entrance is inside the observatory, and you must have tickets in order to eat at the restaurant. Your meal not only comes with a great view of the statue but also the Empire State Building, the Hudson River and the Brooklyn Bridge.
Guests will choose their meal from a menu featuring seasonally inspired ingredients and a nightly selection of premium meats and fresh seafood. If you're just looking for a fancy glass of wine or cocktails, grab a drink at the neighboring bar – ONE Mix.
Liberty House Restaurant
View this post on Instagram
For those staying in or visiting New Jersey, this one's for you. Liberty House Restaurant is right at the northern edge of Liberty State Park. Like The View, it is also commonly used as an event space because of its chic atmosphere and amazing waterfront views (which include the Statue of Liberty).
The outdoor eating area and patio are huge. There's plenty of table seating, lounge areas, a fire pit and even a giant chess board! It's by far the biggest restaurant on this list.
Food is on the pricier side. The menu focuses on farm-to-table fare, serving steaks and seafood. In the winter, the chef uses a hydroponic farm to incorporate fresh ingredients into their cuisine year-round.
Dining in view of Lady Liberty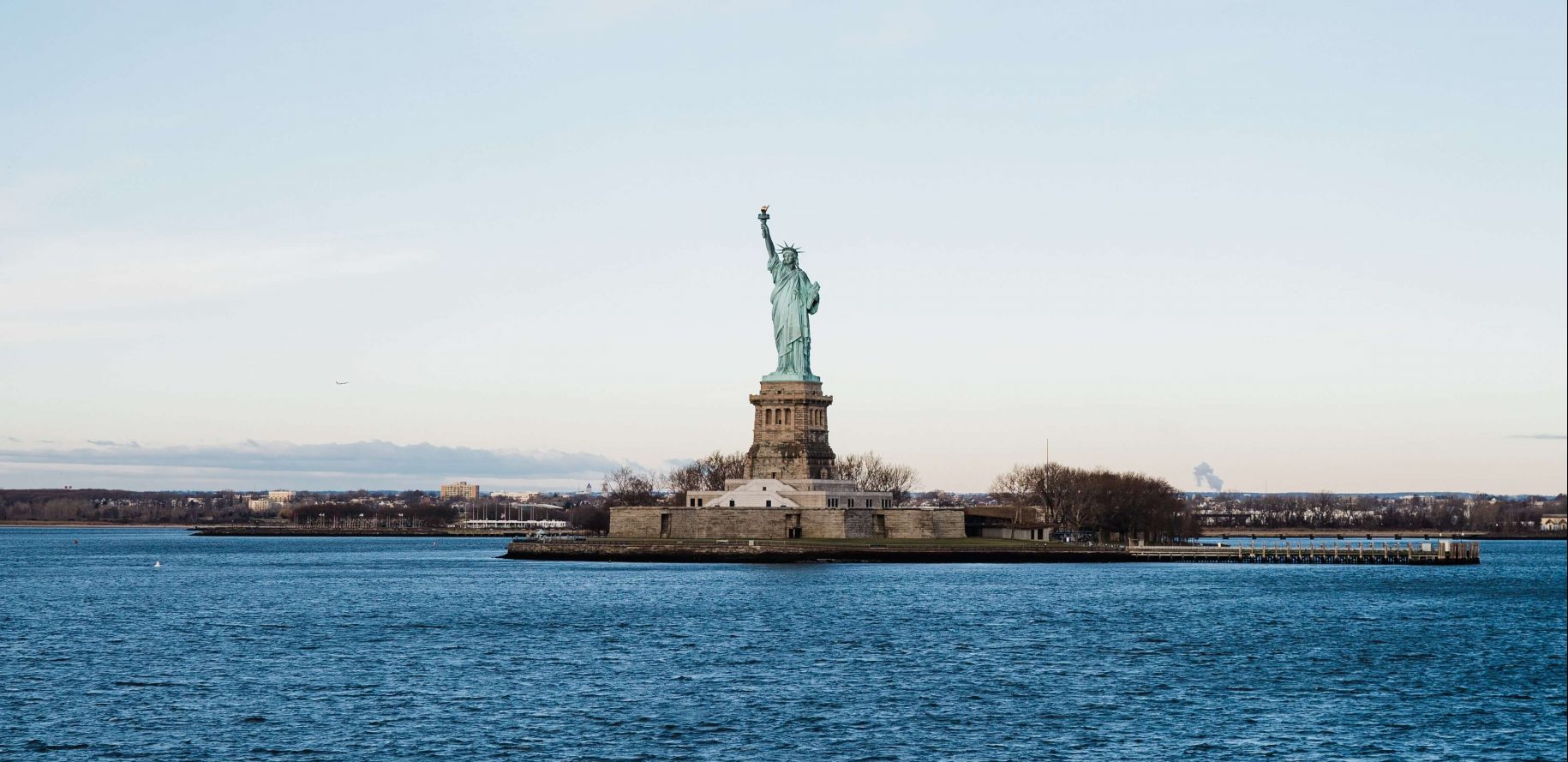 In my opinion, nothing beats an amazing meal. But what makes a good meal even better is a beautiful view to go alongside it.
What's nice about these places is that, even without their spectacular views, the ambience and food make them great restaurants on their own. But sitting down and being able to look out at the Statue of Liberty is that cherry on top of an amazing dining experience.
If all that looking makes you want to visit her up close and in person, consider joining us on a Statue of Liberty tour! Our local, expert guides will share all there is to know about the statue and can also share insider tips on where to eat in New York City.